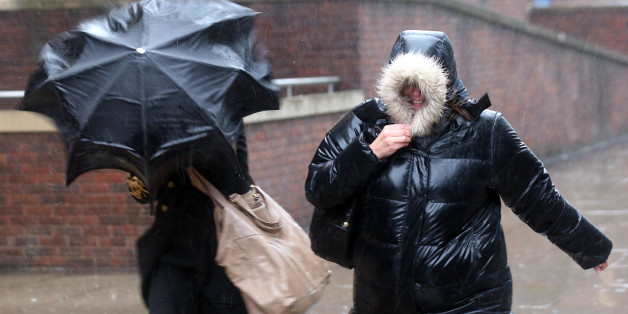 Getty Images
Further heavy rain is expected to bring more misery to areas that have already seen widespread flooding.
Eighty-six flood warnings remain in place throughout the country while there are 122 flood alerts, although none deemed severe - which would carry a danger to life.
River levels have been rising steadily in counties including Wiltshire, Hampshire, Dorset, Somerset and across the Midlands following days of downpours, the Environment Agency (EA) said.
Rivers including the Hampshire Avon through Wiltshire, Hampshire and Dorset, the Stour in Dorset, the Parrett in Somerset and the Severn through the Midlands showed little signs of receding.
Communities along the River Thames throughout Surrey, Berkshire and Oxfordshire have also been warned that they are at risk of flooding.
Helen Roberts, a forecaster with the Met Office, said there will be more heavy rain next week.
"Tomorrow there's going to be a band of rain coming from the West in the afternoon," she said.
"It'll be over south west England from midday and spread slowly eastwards across the rest of the country."
But she said that although there might be some "moderate to heavy bursts", there were not significant amounts of rain expected until Wednesday.
She went on: "Monday night will see scattered showers in the West and into Tuesday morning but it will then be turning wet and windy on Wednesday and will be remaining unsettled.
"There is a lot of saturated land and high river levels so any amount of rain is not good for those areas."
Eight people have died and more than 1,700 homes and businesses have been flooded in England since the beginning of the Christmas period, with around 550 properties flooded since the new year. Some 140 properties have been flooded in Wales. Student Harry Martin had been missing for over a week
On Saturday, it appeared the atrocious weather had claimed another victim after the body of a missing photography student was found.
Harry Martin, 18, left his home in Newton Ferrers, Devon, at noon on January 2 to go out to take pictures of stormy seas.
A spokesman for Devon and Cornwall Police confirmed a body had been found in the sea by coastguards.
"We were informed by coastguards at about 10.40 this morning," the force spokesman said.
"I must stress that the body has not been identified at this stage."
Police and up to 100 members of the public had previously joined searches for the photography student, described as 5ft 11ins, of slim build with short dark hair and blue eyes.
Extensive searches of a 20-mile stretch of coastline, 10 miles either side of Harry's home, were carried out by police and emergency services.