UPDATE: 'Mad Dog' Cannibal Pictured Eating Flesh Of Second Muslim Man After CAR Lynchings (GRAPHIC PICTURES)
The BBC named the man as "Mad Dog", who told the broadcaster his cannibalistic fury was caused by the death of his pregnant wife, his-sister-in law and her baby.
He claimed that it had been a Muslim mobbed who killed his family.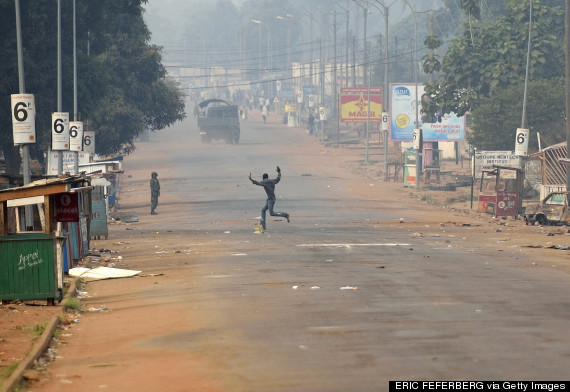 A looter runs across the road seeking cover after hearing rifle shots near the 'Reconciliation crossroad' in Bangui
Violent disorder is continuing across the Christian-majority nation, where rival militia have been engaged in gun battles. International observers say that some semblance of order is now returning to the country after a French-brokered ceasefire.
At least 1,000 people have been killed, and tens of thousands fled their homes following the resignation of the country's Muslim president, Michel Djotodia.
"Mad Dog" told the BBC he had led a gang of at least 20 youths, aimed at taking revenge for the killings. He followed the man onto a bus and then forced the driver to stop.
He was stabbed, set on fire, and then Mad Dog was filmed eating parts of his victim's leg, according to the BBC's correspondent.
The incident was recorded on mobile phones.