Formula 1 driver Jenson Button's father, one of the most colourful and recognisable figures in the F1 paddock, has died of a suspected heart attack at the age of 70.
John Button, who had been a strong guiding force behind his son's career, which includes winning the 2009 world championship, was found dead in his home on the French Riviera by a friend on Sunday.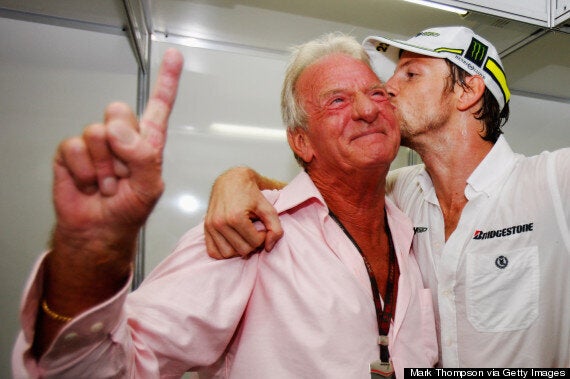 John and Jenson Button celebrating after the latter had won the 2009 F1 World Championship
A statement released by the driver's agent read: "It is with great sadness and regret that I can confirm John Button passed away at his home in the South of France on Sunday. Whilst we await confirmation, initial signs would indicate a suspected heart attack. A close friend who was visiting John on Sunday was the first to discover the tragic news.
"John's children Jenson, Natasha, Samantha and Tanya and the rest of the family are clearly devastated and ask for their privacy to be respected during this extremely difficult time."
Fans quickly began leaving messages of condolence on twitter for the popular figure, whilst Jenson Button's new McLaren team-mate, Kevin Magnussen, was one of the first to express his sympathy.
as did the McLaren F1 team and also Mercedes, which was was the team with which Jenson Button won the 2009 title in its former guise of Brawn GP
John Button, who used to drive rallycross, became a familiar face on the F1 circuit as he proudly cheered his son on to success.
When Mr Button split from his wife Simone, Jenson moved in with his father but the links with his mother and older sisters, Natasha, Samantha and Tanya, were maintained.
As an eight-year-old schoolboy who drove to victory in his first race, Jenson had already told his father he wanted to be a F1 world champion one day. With his father's backing, this dream went on to become a reality.
They were not flush with money and Mr Button once had to borrow enough money to buy fuel for the drive home from a kart race in Scotland.
Mr Button coached his son and helped pay for his racing from a kart engine preparation business.
Anthony Hamilton, whose son Lewis would become the 2008 world champion, was among his customers.