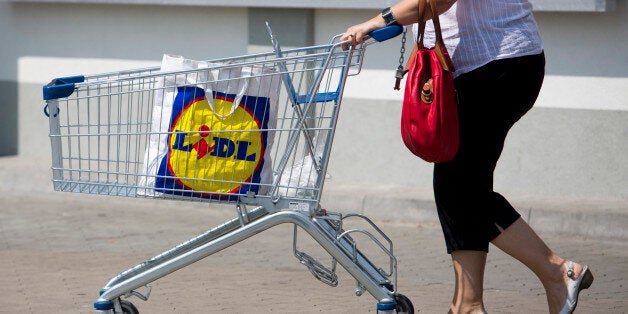 Lidl has banned sweets from its checkout counters and replaced them with healthy snacks following concern from parents about the damage it does to the efforts to get their children to eat healthily.
According to the supermarket's figures, 52% of parents found it hard to get their children to eat healthily due to the amount of snacks at supermarket checkouts, with most of them (68%) pestered by their children for chocolates at checkout.
As well as the nutritional concerns, the cost of buying children snacks at the checkout counter has mounted, with 15% of parents saying they spend around £20-£40 on supermarket snacks.
The findings come as the supermarket announces the national roll-out of its Healthy Checkouts initiative, which will see sweets and chocolates replaced with healthy alternatives at all of Lidl's 600 stores from January 2014.
This follows Lidl's successful trial in December, which saw a 20% higher footfall and customer research found that seven out of 10 (70%) would pick a sweet-free checkout over a traditional one.
Lidl's move is likely to place pressure on other supermarkets to follow its lead, with the National Obesity Forum warning today that the UK is in danger of surpassing predictions that 50% of the nation would be obese by 2050.
Lidl UK managing director Ronny Gottschlich said: "We're the first supermarket to take such a bold step. We're committed not only to raising awareness of the importance of balanced diets and healthy lifestyles, but also to making it easier for our customers to follow them.
"We know how difficult it can be to say no to pester power, so by removing sweets and chocolates from our tills we can make it easier for parents to reward children in healthier ways.
"Parents are in favour of healthier checkouts and with six in 10 households visiting Lidl at least once in the last year and five million customers a week coming through our doors, it's important for us to meet their needs and concerns."
Malcolm Clark, co-ordinator of the Children's Food Campaign, which has been calling for junk free checkouts, said: "We congratulate Lidl for making this move and leading the way on removing unhealthy snacks from checkouts. The onus is now on other supermarkets and retailers to follow suit; and we and the British Dietetic Association will keep up the pressure for them to do so."