The life of Justin Ribeiro dos Santos, owner of adult film company Joybear, is less rock n' roll and covered in sleaze than any right-thinking feminist would think.
The happily married father-of-one's daily reality is a far cry from the porn mogul lifestyle you'd expect ("I'm not the type who snorts coke off the bonnet of his Ferrari") - after dropping his 11-month-old daughter at nursery, he cycles to work and engrosses himself with spreadsheets in his South London office.
But, of course, this isn't any ordinary day job. His company proudly makes X-rated films that cater to both women and men, or so he adamantly believes.
The key, he says, is thwarting any hint of misogyny (the women in his films take more 'empowering' roles) and better attention to detail - "a woman will spot a label sticking out and be turned off straight away".
Being the strident feminists that we are here at HuffPost UK Lifestyle, we were intrigued. Pornography and feminism have never been happy bedfellows (excuse the pun), but we're open-minded enough to be presented with a counter argument.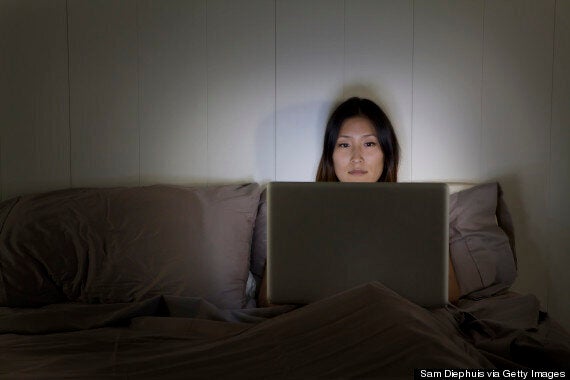 How does Joybear bridge the gap and make films for both sexes?
This is essentially the million dollar question!
Personally we believe that trying to cater to everyone is immediate commercial suicide. So in a nutshell we largely forget about men's needs and concentrate much more on what women would generally want to see.
So how do you cater to women's needs?
By focusing more on storyline and building character/context. That said, never without compromising the function of the product: we make pornography not mainstream cinema.
Of course we know that most women would probably love to see Ryan Gosling abseiling down a rock face with a hard-on to save a damsel in distress, this kind of thing is rather expensive to produce!
We also create more realistic reconstructions of what real sex is actually like. When my daughter grows up and discovers sex and/or pornography I'd rather she turned to a Joybear movie than your average porn film.
And of course there are other obvious things such as lots of kissing, women being in control, more female pleasure and men treating women like goddesses but these are standard.
What elements of a typical adult film appeal to men and women?
Generally speaking men are (unsurprisingly) fairly formulaic, predictable and unadventurous. They have 'their thing' and want to see that reconstructed again and again with different characters. Men can overlook many details if other boxes are ticked.
Women however might have a different persuasion day-to-day. Monday could be romantic, build up and sex in a forest with a knight (played ideally by Ryan Gosling). Whereas Tuesday could be quick and fast with a total stranger, who might not even be especially attractive.
One thing about women is the their attention to detail: A woman will spot a label sticking out and pretty much be turned off there and then. Guys wouldn't care less. Women would also spot long, American-style fingernails and, wincing as they neared delicate body parts, again shut off before any action has even started. When it comes to making films for women you have to look at the details.
What do you think about the porn industry at present?
I think there are many problems with pornography. The industry still doesn't care enough about protecting kids from accessing explicit content.
Furthermore, once 'youngsters' do have access i think they are largely being exposed to an unrealistic idea of what sex is all about (which is probably adding unnecessary pressure in other departments).
Lastly, I'm not quite sure why so many people like making really 'nasty' stuff! If the industry didn't make it people wouldn't watch it…
But, judging from your line of work, you don't have issue with the premise of the porn industry...
Correct. I don't think there is anything wrong with looking at material for sexual arousal as long as it's part of 'balanced sexlife'. Like everything moderation is key.
What needs to change, so that pornography can better serve everyone?
I think the industry needs to work harder to keep adult content for adults only. I also strongly believe parents and schools need to get in there early and explain to kids that porn is generally not what real sex is like and that they need to take it with a pinch of salt and like all things (booze, drugs and even excessive eating) everything in moderation.
Whilst I find a lot of adult content abhorrent I think it's dangerous to get involved with wanting the industry or local government to get tougher with content that is frankly 'nasty' as believe it or not there are lots of people (producers and consumers) out there willing to fight for this kind of content. As long as it's hard for adults to find and impossible for kids to find then each to their own.
Aside from the consumers, how have the women who feature in your films reacted to Joybear?
I think most models appreciate our ethos.
The sex in our films is also more natural, fun and like 'normal sex' and a far cry from the misogyny you see in more 'typical' porn. I believe most women prefer to view (and indeed the models prefer to be involved in) this kind of sex where 'everyday' emotions (e.g. fun) are at play rather than the more commonplace ones (e.g. power play and humiliation).
That said, ironically, I think Joybear films can be among the toughest of gigs as my directors often require models to remove their 'porn masks' in order to reveal a more natural and frankly more erotic performance.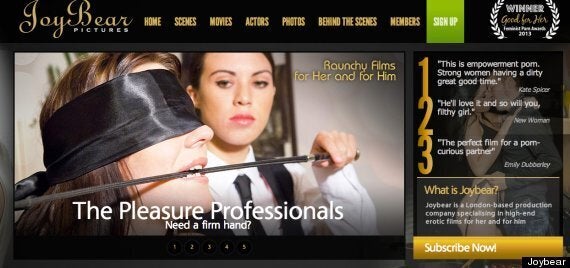 What were your first experiences of porn?
Believe it or not I think it was a tattered top-shelf (soft) magazine I discovered in the woods with a friend of mine. I would've been about twelve. I found it all very exciting.
Had I had 24/7 access (to harder content) I probably would not have found it all so exciting, which I think would've been a shame. Sex and sexual self discovery should be exciting.
Has your attitude to porn changed as you've got older - or since starting a family?
Yes. Personally speaking I don't look at it nearly as much as I used to. That might be because I've become slightly desensitised to it or it might be simply because I've got other more important things in my life.
Generally speaking I think it's something people need to be aware of. Nowadays porn isn't just this fun thing you watch on your own. It's become something more enveloping and should be used in moderation.
Joybear's revamped website launched in December.