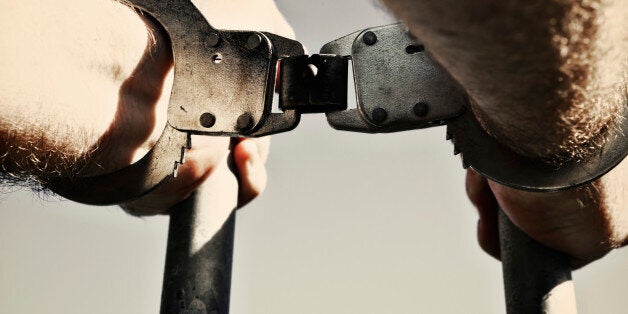 An 84-year-old immigration detainee - who was suffering from dementia - was taken to hospital in handcuffs and died while still in restraints, inspectors have revealed in a disturbing report.
Doctors declared the Canadian man - understood to be Alois Dvorzac - as unfit for detention or deportation after diagnosing him with Alzheimer's disease but he had spent nearly three weeks in privately run Harmondsworth immigration removal centre when he died.
His death is one of a number of "shocking cases where a sense of humanity was lost", HM Inspectorate of Prisons (HMIP) said in its report on an unannounced visit to Harmondsworth, near Heathrow airport, in August last year.
Other damning examples include a wheelchair-bound stroke victim, who was handcuffed on a journey to hospital for no obvious reason and a dying man who had remained handcuffed while sedated and undergoing an angioplasty procedure in hospital.
Expressing shock at the findings of the report, Juliet Lyon, director of charity campaigners the Prison Reform Trust, said: "Have the authorities responsible for Harmondsworth forgotten the basic principles of humanity and decency that must apply to any form of custody?"
Ministers have vowed to scrutinise more closely the performance of Harmondsworth contractor GEO, a UK subsidiary of the US group of the same name, which also runs Dungavel House immigration removal centre in South Lanarkshire.
Removal centres are used for temporary detention, in situations where people have no legal right to be in the UK but have refused to leave voluntarily.
Elsewhere in the report, inspectors said 11 detainees had been held at the centre for more than a year, including a man who had been held for almost two-and-a-half years, despite being willing to return to his country.
And the number of self-harming incidents at Harmondsworth has increased from five a month at the last inspection to an average of seven a month, while there were nearly 100 hunger-strikers identified in the six months prior to the inspection.
Failed asylum seeker Isa Muazu, who was removed from the UK and returned to Nigeria last month after an unsuccessful legal battle, was among detainees on hunger strike at Harmondsworth before his departure.
In addition, HMIP described some of the rooms at the 600-capacity detention centre as overcrowded, dirty and bleak.
Chief Inspector of Prisons Nick Hardwick said: "It was hard to dispel the feeling that Harmondsworth was in a state of drift. There was some uncertainty about the future of the management contract."
"The centre did not seem to be progressing and some services were being poorly managed," he added. "Most importantly, there needed to be a refocusing on individual needs of the most vulnerable people in detention, some of whom had been utterly failed by the system."
A lack of risk assessments meant most detainees were handcuffed on escort and on at least two occasions, inspectors discovered elderly, vulnerable and incapacitated detainees, one of whom was terminally ill, were "needlessly handcuffed in an excessive and unacceptable manner".
Inspectors warned insufficient weight was given to doctors' opinions as to fitness for detention.
Dementia sufferer Dvorzac was not released despite being unfit for detention and, despite his vulnerability, no referral was made to social services to have his care needs assessed, HMIP said.
He was refused entry to the UK at Gatwick Airport on January 23 last year. After a stay in hospital, he was detained at Harmondsworth, where on January 30 a doctor declared him unfit for detention.
Doctor's notes described him as "frail, 84 years old, has Alzheimer's disease ... demented. Unfit for detention or deportation. Requires social care".
An attempt to remove Dvorzac was called off on February 6 after a doctor declared him unfit to fly and he was returned to the removal centre.
He was taken to hospital in handcuffs on February 8. He came back to Harmondsworth before a return visit to hospital on February 10. He had been in handcuffs for almost five hours when he died, still wearing them.
The Prisons and Probation Ombudsman is preparing to investigate the incident but is awaiting confirmation of the cause of death. Inquest proceedings are being conducted by West London Coroner's Court.
Immigration minister Mark Harper said: "The use of restraint in this case seems completely unjustified and must not be repeated. Clear instructions have been issued making clear that restraint should only happen where absolutely necessary."
He added: "Clearly, performance by the contractor running Harmondsworth has been below the high standard expected. This report makes a number of recommendations that we will be taking forward and I expect to see significant improvement. We will be scrutinising our contractor's performance closely."
At the time of inspection, 93 detainees had refused food or fluids in the previous six months. During the inspection, 10 detainees were refusing food or fluids, four of whom were listed in the most severe category.
A man who had been held for almost two-and-a-half years was unable to leave the country as he had lived in the UK for 22 years and lost contact with his family, so was unable to establish proof of identity.
"It was difficult to see how his removal could ever be effected," the HMIP report said.
Related