A flimsy budgie cage was all that stood between this Australian daredevil and an agitated tiger shark after a stunt very nearly turned deadly.
Shaun Harrington was filmed plopping into the ocean off the Gold Coast's Coolangatta with just a $50 bird cage for protection.
Footage shows him panicking and brandishing the cage as the 2.4m killer shark heads straight for him.
"It was heavy, it scared the shit out of me and I thought I was a goner," he told the Western Australian.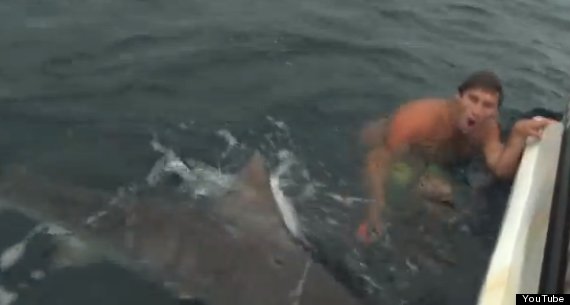 Yikes: Shaun Harrington's prank turns dangerous
The floundering 27-year-old is heard screaming with terror before scrambling to safety in the nick of time.
He told Channel 9's Today show his unimpressed wife was not speaking to him after the stunt, adding: "I'm pretty much in the dog house."
The video was shot to promote his his surfing and fishing clothing label, The Mad Hueys.