Bernie Ecclestone has warned the vultures circling in preparation for his potential demise to write him off at their peril.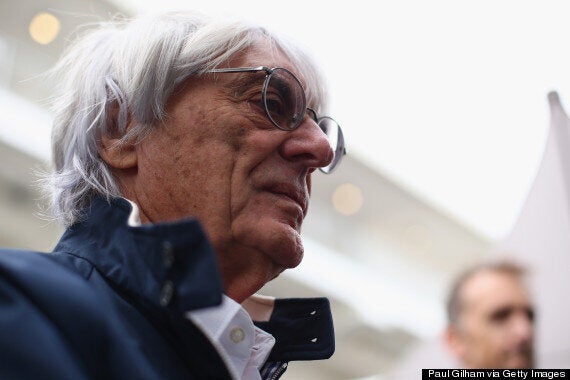 Bernie Ecclestone is adamant he will continue as F1 boss
For now, until the outcome of the trial, Ecclestone is answerable to Peter Brabeck-Letmathe and Donald Mackenzie, Delta Topco's chairman and vice-chairman respectively.
The suggestion is this is the beginning of the end for Ecclestone as F1's overlord, and that he will never again wield the same power as he has in the past.
A calm, relaxed Ecclestone, however, was utterly dismissive of such suggestions when put to him at the end of another busy round of meetings on Thursday.
Speaking to Press Association Sport, Ecclestone insisted the claims were "complete nonsense".
He added: "Everybody on the board is more than a million per cent supportive. They just want me to get on with doing what I always do.
"The minute the court case is over then I'll be back on the board again."
As far as Ecclestone is concerned it will be "business as usual", and that he will continue to wheel and deal on F1's behalf.
"All that's happened is a few months ago we decided that if I had to appear in court, during that period I would stand down from my role as a director of Delta Topco," said Ecclestone.
"For Formula One Management it's the same as before. There is no change at all.
"It's just that if I wanted to buy something I can't do it without board approval, but when it comes to races, circuits, it will be as we've always done. It will be the same thing."
The trial, to be held in Munich, centres around claims Ecclestone bribed German banker Gerhard Gribkowsky with a 44million US dollars (£29million) payment to help smooth the sale of F1 in 2006 to private equity firm CVC Capital Partners.
Ecclestone has previously claimed he was being "shaken down" by Gribkowsky, who was at the time employed as the chief risk officer at Bayern LB, the German bank overseeing the sale.
Gribkowsky was imprisoned in June 2012 for eight and a half years after being found guilty of breach of trust, tax evasion and receipt of corrupt payments.
Prosecutors in Gribkowsky's trial claimed he sold the stake without updating its valuation in return for bribes disguised as consulting contracts.
Ecclestone has admitted making the payment to Gribkowsky, but claims he did so because he had been threatened with blackmail.
Addressing the claims, Ecclestone said: "I know I'm not guilty. That's for sure. Now whether I get convicted is another story.
"But all the (English) lawyers say this (going to trial) should never, ever have happened, and the German lawyers are saying the same thing, that there is no case."
Via a statement Ecclestone's German lawyers, Sven Thomas and Norbert Scharf, remarked "the alleged bribery did not happen.
"The accusations in the indictment based on Gribkowsky's statement are unfounded and do not...add up to a coherent picture."
Ecclestone is soon to learn the verdict of a High Court hearing late last year when German media group Constantin Medien sued him and others for up to 144million US dollars (£88m), claiming F1's sale to CVC was undervalued.