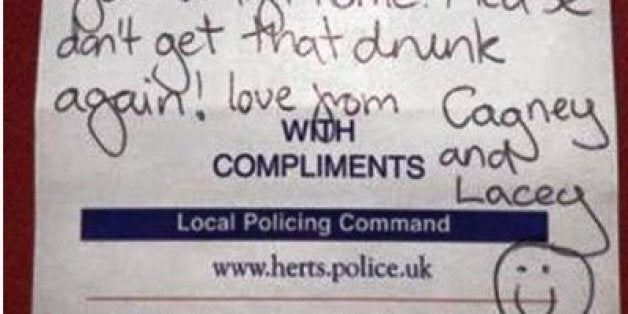 The Chief Inspector for Watford Police has praised officers for the 'light-hearted' way they dealt with an inebriated man staggering home from Watford.
The drunk man, known only by his first name David, was escorted home by two police officers who left a cursory note of advice written on Hertfordshire Constabulary notepaper, signing off in the names of 80s US detective-duo, "Cagney and Lacey".
The note, which has been hailed by Facebook users as "good old fashioned policing", reads: "We found you staggering in the road on your way home from Watford.
"You were so drunk we were worried you wouldn't get home in one piece! So we gave you a lift home.
"Please don't get that drunk again. Love from Cagney and Lacey"
Chief Inspector for Watford, Dave Wheatley told the HuffPostUK: "If my officers came across someone who was vulnerable and were in danger and took them home to ensure they were safe, then their actions should be applauded.
"This note shows the human side to policing and it is evident the officers who wrote this were attempting to highlight the danger he had put himself in, but in a light-hearted way."
The UK Cop Humour Facebook page posted the note at 2:20am on January 12 and almost 44,000 users have liked the post so far.
Having also posted the note to Twitter, the official Hertfordshire Police Twitter account later retweeted the post, asking the real Cagney and Lacey to 'please stand up'.
The Chief Inspector added: "Drinking excessive amounts of alcohol can leave people vulnerable so we'd use this as an opportunity to remind people to drink responsibly."
Related