Ross Brawn's plans for an extended sabbatical from Formula One may fall by the wayside as the team principal's position at McLaren is soon to become vacant.
It follows an internal coup at McLaren which has resulted in Ron Dennis regaining control of the Formula One operation from Martin Whitmarsh by returning to his role as group chief executive officer.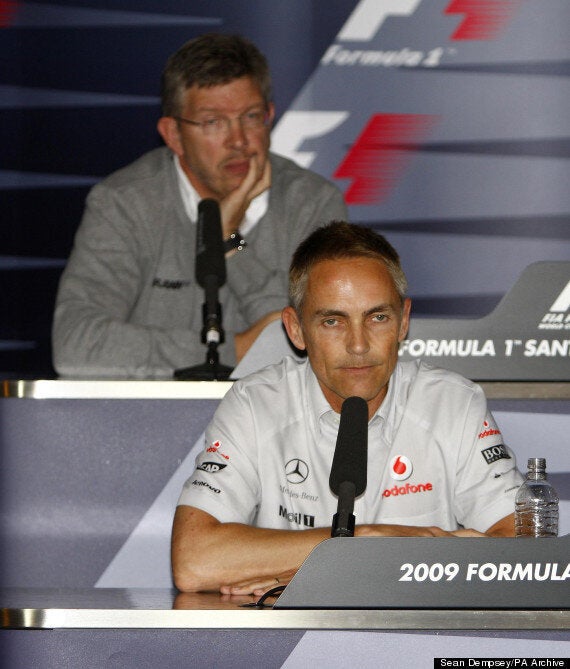 Who's behind you? Martin Whitmarsh may be about to be unseated from McLaren
Following a shareholders' meeting, McLaren issued a statement on Thursday confirming Dennis was again CEO, a position he held from 1982-2012 before passing on the baton to Whitmarsh.
Whitmarsh's name, however, was noticeable by its absence, and though there has been no sacking or resignation as yet, Press Association Sport understands he will not be team principal come the season-opening grand prix in Australia in mid-March.
In addressing the workforce at McLaren's Technology Centre in Woking for 20 minutes, Dennis promised "there will be changes", and the team "will win again", following which he was given a standing ovation.
In the statement, Dennis said his fellow shareholders have mandated him "to write an exciting new chapter in the story of McLaren, beginning by improving our on-track and off-track performance".
That follows one of the worst seasons in McLaren's history last year when, for the first time since 1980, they failed to claim a podium finish.
Indeed, McLaren have not had a drivers' champion since Lewis Hamilton in Dennis' last year as team principal in 2008, while you have to go back to 1998 for their last constructors' crown.
Dennis has no desire to again run the team, but will no doubt want an experienced and highly-successful hand on the tiller such as Brawn.
The 59-year-old is out of work after leaving Mercedes at the end of last season, having decided the new management structure was not for him.
Mercedes felt the role of team principal had become an out-dated concept, and instead are now run by a triumvirate of power in Toto Wolff, former McLaren technical director Paddy Lowe and Niki Lauda.
Upon his departure, Brawn stated he would not discuss any future positions until this summer, claiming he wanted "to clear my mind, take a rest, and then decide if I want to return to F1".
But McLaren may yet prove an attractive enough proposition for him to go back on such thinking, and put down his fishing rod given his love of that particular pastime.
For now, Dennis is to "undertake a thorough and objective review of each of (McLaren's) businesses with the intention of optimising every aspect of our existing operations".
It appears next month is when change and potential new appointments can be expected at McLaren as Dennis added that is when he will "articulate a new Group strategy and implement the organisational structure best suited to achieving it".