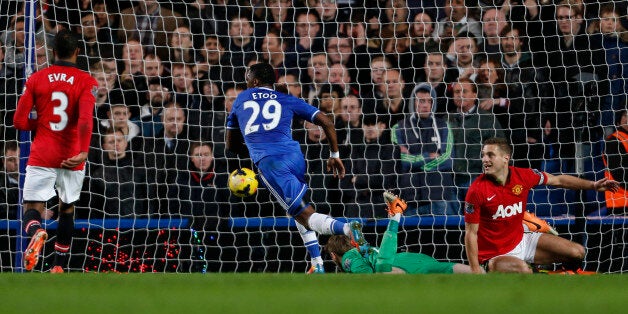 It was another big test David Moyes failed. Manchester United were not as rudderless as they were at Anfield nor as abject as at the Etihad. They were bereft of Wayne Rooney and Robin van Persie at Chelsea, but they were comfortably beaten by a coach they could regret overlooking in the summer.
Some hesitated to call it a big game. United are now 12 points adrift of Chelsea following their seventh Barclays Premier League defeat under Moyes, the "Chosen One" to José Mourinho's "Unchosen One". Mourinho is undefeated in 10 against the Scot now, and every United defeat carries an angle that reflects wretchedly on their incumbent. They have lost to five of the six sides above them in the table.
Mourinho again resisted having a dig at United or Moyes. "Today, we play against the champions," he said in his programme notes, "we don't play against a team that is 11 points away from the leaders, we play versus Manchester United." While the majority seem to think the club's aura has diminished over the last eight months, Mourinho, who practically auditioned to succeed Ferguson last season, thinks otherwise.
Technically, Moyes has won at Stamford Bridge, although that came via a penalty shootout in Everton's fourth round FA Cup triumph three years ago. He has long since won a football match at Old Trafford, which has whittled his bogey grounds down to Anfield, the Emirates and Mourinho's own fortress. Startlingly, he has now not won inside 90 minutes at those clubs on 44 occasions.
Chelsea 3-1 Manchester United: Experienced Players Letting Down David Moyes
Mourinho has been in mischievous form this week about Wayne Rooney, and his diplomacy, while possibly a facade ahead of an inevitable summer bid for the England striker, could also be interpreted as a reminder he still covets the manager's role at Old Trafford. He was unbeaten in nine against Moyes before kick-off, and the final score was another reason, along with his van-load of medals, why Sir Alex Ferguson may have been wrong to anoint Moyes as his successor.
"You wanted his job," United fans crowed at the Portuguese, who gave a merry wave. "David Moyes, we want you to stay," retorted the home supporters. Mourinho's kindness extended to an apology for straying into Moyes' line of vision.
Moyes' Friday diagnosis about Rooney was genuine, rather than a poker face. Shinji Kagawa was demoted for a positive United XI with four Englishmen in the front six that was heavily reliant on Danny Welbeck's recent good form and the precocious Adnan Januzaj. Exactly eight months on from when he was first listed on a United team sheet, Januzaj was at the hub of their attack. United's dependence on the young Belgian is both enraging and exciting for their supporters.
They almost began as decisively as they did during their barnstorming victory in west London last season, as Ashley Young was denied by Petr Čech inside the first two minutes following a neat one-two with Welbeck. It proved crucial when Samuel Eto'o's speculative effort looped in off a desperate Michael Carrick after the Cameroonian bamboozled the rusty Phil Jones. The versatile youngster returned after a month out injured in an attempt to stymie Chelsea's array of forwards, and Moyes will be distressed at just how flimsily he defended against Eto'o.
For all the attacking talent on show, it was a largely physical contest, as even the lightweight Oscar, Carrick and Januzaj grafted. It turned sinister when David Luíz, who has previous against United, violently barged Antonio Valencia into touch in front of an apoplectic United bench. The Brazilian received a yellow card, and was fortunate not to receive a second when he poleaxed Rafael da Silva.
Januzaj was well shackled by the aggressive Luíz and Ramires, but did fashion a chance when he shook off the former inside the Chelsea area, only Welbeck did not read his pass across the six-yard box. The striker was gifted a glorious chance to level seven minutes before half-time, though, when he shot feebly at Čech under pressure from Cesar Azpilicueta.
Ferguson occasionally suffered the ignominy of facing Mourinho's Chelsea when the fixture was not a title tussle and Chelsea did not seem especially buoyed by the occasion, despite their lead. They struggled for fluency in the final third, yet the yawning chasm between Chelsea and the champions is such that the hosts doubled their lead when Gary Cahill evaded an amateurish offside trap and squared for Eto'o to tap in his second.
"Where's your Fergie gone?" Chelsea fans mocked prior to the shrill for half-time.
Aside from their comeback at Hull, United's powers of recovery largely seem to be a thing of the past, and the contest was ended when Eto'o turned in to make it 3-0 after David de Gea parried John Terry's header. The 32-year-old now sits alongside David Bentley, Dirk Kuyt and Romelu Lukaku in the Premier League pantheon of hat-trick scorers against United.
If Jones could be excused for ring-rustiness, Moyes will be more disappointed in defensive pairing Nemanja Vidić and Jonny Evans, boasting eight title winners' medals between them, who were effortlessly overcome by their opponents. Javier Hernández, scorer of seven goals in five competitions against Chelsea, was introduced as United fans defiantly hollered "20 times, 20 times, Man United."
It was reminiscent of the din they made when 4-0 down at City in September. There is a positive acceptance that, domestically at least, this season is effectively a write-off for the worst champions since Blackburn Rovers in the mid 90s. Mourinho glanced apologetically in Moyes' direction, but he stoically stared ahead. It was the look of an executioner who was considering mercy, but there were still 34 minutes left to play.
Moyes has rarely looked so exasperated in defeat. The guff about how this is a squad of champions seems to embarrass him now, and he might not be so hesitant to wield the axe with 12 days remaining of the transfer window following this latest showing.
Hernández, unsurprisingly, did score at Stamford Bridge for the fourth time in three seasons on 78 minutes as Chelsea conceded for the first time this year. Mourinho became edgy, especially when Čech received the ball straight from the re-start, so the returning Nemanja Matić, amusingly subjected to cries of "Chelsea reject" from United fans, came on for Willian to initiate the lockdown.
Vidić took out his frustration on Eden Hazard with a stoppage-time reducer and was sent off for the second time in his career at Chelsea. Mourinho gave him a sympathetic wink as he traipsed down the tunnel. Look what you could have had.