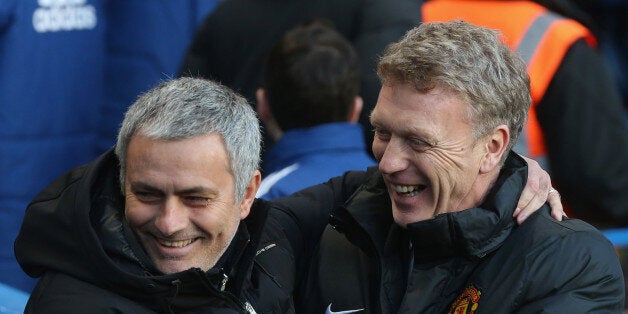 It was a glance intended for both of them, but only Javier Hernández saw it. As the Mexican waited to come on, José Mourinho offered him and his manager a subtle apology for the scoreline, as a seventh defeat began to sink in for Manchester United. Three-nil down, David Moyes stoically stared straight ahead.
Not for the first time, Mourinho reined in his emotions against United. Last season, he remarked after Real Madrid's controversial Champions League win at Old Trafford that "The best team lost." It didn't particularly suit a manager who, however much he has mellowed, is still a supremely confident individual capable of cutting egos down to size.
Yet whenever he manages his teams versus United it is as if memories of a past relationship dictate his emotions. Even with United 14 points adrift of the Premier League summit and 12 points off Chelsea, he was reluctant to dismiss their title credentials.
"Maybe if I say [United are out of title contention], some people from United would ask: 'Who am I to say that?'" Mourinho said. "But I don't think David will be upset if I say the reality: 14 points difference and 13 and 12 [to Manchester City and Chelsea]. Can they recover to one of those teams? They can but to three of them? It needs three teams to have almost a collapse. What I hope they do is to beat all of them to finish top four."
Chelsea 3-1 Manchester United: David Moyes Fails Against José Mourinho Again
It was a remark reminiscent of his first year in England, when he sat down for an interview with Gary Lineker ahead of the 2005 FA Cup final. Asked who he wanted to win out of Arsenal and United, without missing a beat, the Portuguese opted for the latter.
His diplomacy seems genuine, rather than a facade ahead of an inevitable summer transfer bid for Wayne Rooney. It helps his records against United (three defeats in 18) and Moyes (unbeaten in 10) are so positive, yet it is as if he is offering his conquests a polite reminder he was overlooked last summer.
Madrid's two-legged tie with United a year ago was also an audition for Mourinho. He sat down for an MUTV interview with Paddy Crerand ahead of the first leg, there was no dance down the touchline like in 2004 with Porto, and he actually looked embarrassed at the manner of Real's 2-1 victory, influenced by referee Cüneyt Çakır's astonishing decision to send Nani off.
The celebrations for Mourinho are muted against United. Contrast his reaction on Sunday to the dash into the crowd after Fernando Torres' last-minute winner against Manchester City, or the cheerleading role he played as Chelsea honed in on victory over Liverpool last month. United bring out a different side in him and it is not beyond the realms of possibility he covets Moyes' job.
In El País journalist Diego Torres' book, Prepare to Lose: the Mourinho Era, he says Moyes' appointment "provoked an earthquake" and Mourinho felt betrayed by Sir Alex Ferguson, who summoned Moyes to his house to inform him he would take over.
"Mourinho... thought that Ferguson was, besides his ally, also his friend and godfather. He was convinced that they were tied by a relationship of genuine trust. He thought that his fabulous collection of titles constituted an 'endorsement' unreachable to any other contenders. When he knew that Ferguson had chosen Moyes, the Everton coach, he was struck by a terrible disbelief. Moyes hadn't won absolutely anything!" Mourinho's agent, Jorge Mendes, supposedly rang United on the day they announced Moyes as their new manager in a desperate attempt to persuade the club to reconsider.
Following Nemanja Vidić's straight red card on Sunday, Mourinho sportingly, rather than smugly, winked at him. He felt it was a harsh decision and also defended Rafael da Silva's two-footed lunge on Gary Cahill.
"I think when players are frustrated things like this can happen," Mourinho shrugged. "Frustration with the result. Maybe it's an orange card [for Vidić]. The kid, Rafael, it's just frustration."
United's auspicious start was also noted, and Mourinho added Chelsea "didn't deserve to be winning 2-0 at half-time. They started the match better than us and were a bit unlucky when we scored... Things were going our way."
Unlike two seasons ago, there was no United revival from a three-goal deficit, but Mourinho, who looked visibly anxious after Hernández reduced the arrears, warned "they were coming".
It is ironic the complimentary soundbites he reserves for an opponent are perhaps more uplifting for United supporters than Moyes' own. There is not hint of kidology. Mourinho was mischievous when he began spoke about Rooney last week without being asked, and although that deal could still happen this summer, there is a sense of regret on the Chelsea manager's part he will not coach him at United.
Popular in the Community