UPDATE: Olivia Marks-Woldman, Chief Executive of the Holocaust Memorial Day Trust told HuffPost UK: "Local Holocaust Memorial Day events are organised and led by local activity organisers, for local communities. The Holocaust Memorial Day Trust provides resources, support and guidance to help plan successful activity.

"We do not 'approve' events and do not tell local activity organisers what to do. However, we made it clear to organisers of this event that Mr Robinson's presence may detract from the central messages of Holocaust Memorial Day. Ultimately, any decision to cancel the event is made by them."
Tommy Robinson, the ex-EDL leader was to be a key speaker at a Holocaust Memorial Day event at a college, until concerned trustees told organisers HMD could not be associated with the event, The Huffington Post UK can reveal.
The event was organised by the Suffolk New College & University Campus Suffolk chaplaincy at the college in Ipswich next Monday, in conjunction with controversial Muslim charity JIMAS.
The event has now been pulled, according to Tell MAMA's Fiyaz Mughal, who is one of the Holocaust Memorial Day trustees.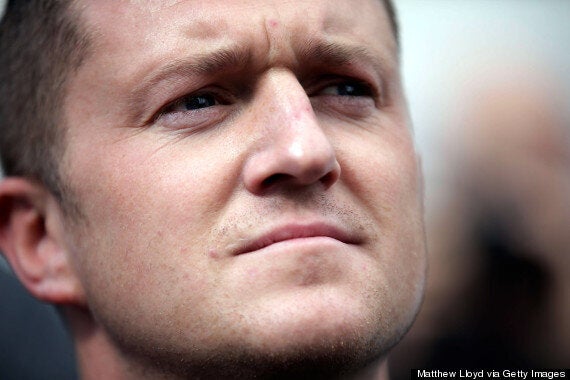 Tommy Robinson was invited to speak at the event
"We told the organisers that because of some of Tommy Robinson's past actions, and many of his comments since he left the EDL which indicate he still holds questionable views, that we could not support an event with him," Mughal told HuffPost UK.
"We said that if the event went ahead, it would not be with Holocaust Memorial Day approval. We were very concerned that we might be seen to be giving it approval.
"The organisers felt very strongly that Robinson should be there to speak but took the decision to cancel after out call. It's dead in the water now."
Unite Against Fascism said they had also lobbied the college to ban Robinson. "This is not a gathering to pay respect to the millions of Jews murdered by the Nazis in the Holocaust instead it will be used to by Robinson and Jode to attack Islam," a spokesman said.
"UAF has written to the college urging them to cancel the meeting and instead put on a more suitable event to mark the Holocaust."
He said that the UAF had planned a picket of the event if it had gone ahead.
Several other prominent ex-extremists were set to be taking part in the event, including Pat Magee, who was given multiple life sentences for the IRA Brighton Bombing), and Nick Jode, another ex-EDL member.
The even was to be opened by Professor Dave Muller, principal of Suffolk New College.
Suffolk New College told HuffPost UK that they were not directly involved with the organisation of the event and did not take the decision to cancel. Neither Suffolk New College & University Campus Suffolk chaplaincy and JIMAS could be reached at their respective numbers.