'Girls' bounced back onto UK screens last night, for a third series charting the lives of four New York twentysomethings.
It was business as usual in one sense… each of Hannah, Marnie, Shoshanna and Jessa as deeply self-involved as ever, but with the quartet going off in some interesting directions from the previous series.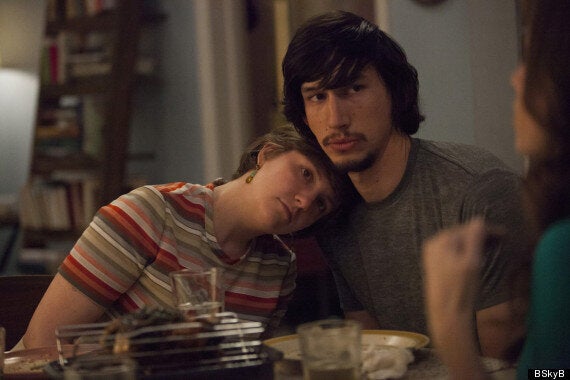 Jessa (Jemima Kirke) wasn't letting her term in rehab in any way compromise her self-regard, pausing only to drag a co-resident out of the closet, and swap cigarettes with Richard E Grant.
Marnie (Allison Williams) was loving, sorry, I meant hating the fact that her ex had posted a video of her on YouTube, even as she attempted to make sense, and failed, of his walking out on her the very day they had bought pizza dough together.
Shoshanna (Zosia Mamet) was sticking to her study plan of trying out as many horizontal partners as library books, so as to emerge from college a fully-rounded human being.
Despite her calmness at the eye of these various storms, it was Hannah (Lena Dunham) we found the most changed. She was taking her medication, working on her book, and looking at life from inside the bubble of her relationship with Adam (Adam Driver), with this pair now living together.
True, she's got a shrink who seems to have his own 'issues', and she was having trouble persuading her boyfriend to have dinner with her friends, but her whole perspective has shifted, which should make for an interesting third series. Lena Dunham, the prodigal force behind this phenomenon – writing, directing as well as starring at 27 – has proved she's not scared to evolve, even when sitting on a golden egg like this multiple Award-winner.
Nor does she keep the best lines for herself. In last night's opening double bill, these were surely given to Adam's indignant ex and her friend, desperately enjoying the horrors of an accidental encounter with the pair, culminating their series of rabid put-downs with a glance over at Hannah – "Did you dress in a rush?"
Even with this, it was Adam's reluctant conversation with Marnie that set this opener alight, telling her to quit carping until she found the right person. "And you won't be scared." It was magic, and strangely moving in between all the usual whining and wit we've come to expect from this brilliant bunch.
'Girls' continues on Sky Atlantic each Monday at 10pm.
Popular in the Community