The Paleo Diet mantra 'keep it clean' - to steer clear of refined and processed foods.
Paleo Bread (makes 1 loaf (about 12 slices)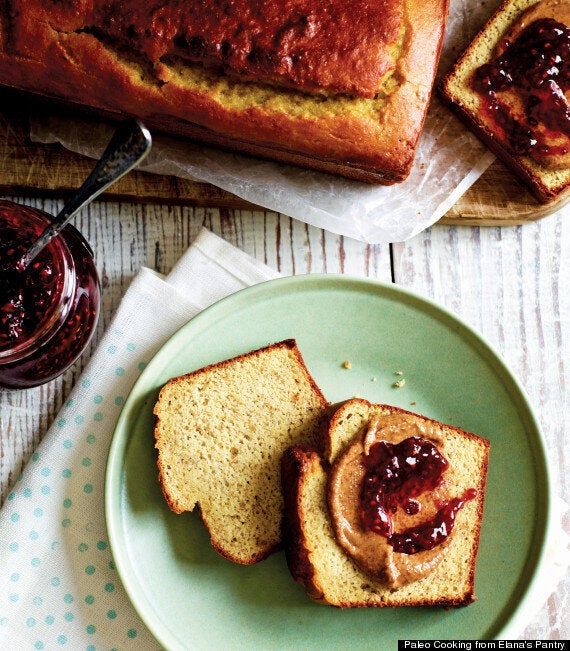 2 cups blanched almond flour
2 tablespoons coconut flour
1 tablespoon coconut oil, melted over very low heat
1 tablespoon apple cider vinegar
Preheat the oven to 350°F. Grease a 7 by 3-inch loaf pan with coconut oil.
In a food processor, pulse together the almond flour, flax meal, coconut flour, baking soda, and salt. Add the eggs, coconut oil, honey, and vinegar and pulse until thoroughly combined.
Scoop the batter into the prepared loaf pan and bake for 35 to 45 minutes, until a knife inserted into the center of the loaf comes out clean. Let the bread cool in the pan for 1 hour, then serve.
Honey Lemon Chicken (serves 4)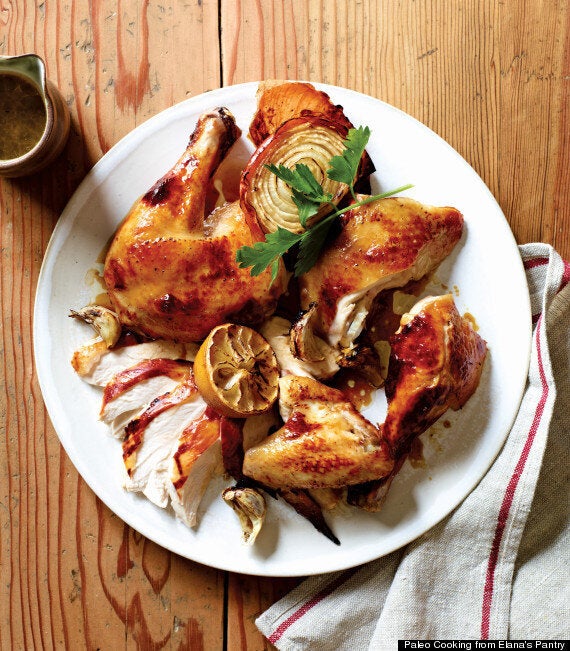 1 whole chicken, 2 to 3 pounds
Preheat the oven to 350°F.
Rinse the chicken and pat dry. Place the chicken, breast side down, in a 13 by 9-inch baking dish.
Drizzle the chicken with the olive oil and honey, sprinkle with the salt, and stuff with 1 of the whole lemons. Cut the remaining 2 lemons in half and place in the corners of the baking dish. Cut the onions in half (leaving the skin on) and place alongside the lemon halves. Break the head of garlic apart (leaving the skin on) and scatter the cloves around the baking dish.
Bake the chicken for 50 to 60 minutes, until the skin is well browned. Increase the heat to 450°F, turn the chicken breast side up, and bake for about 15 more minutes, until an instant-read thermometer inserted into the thigh reads 170°F to 180°F.
Remove the chicken from the oven. Carve the chicken, drizzle with the pan juices, and serve.
Flourless Nut-Free Brownies (makes 16 brownies)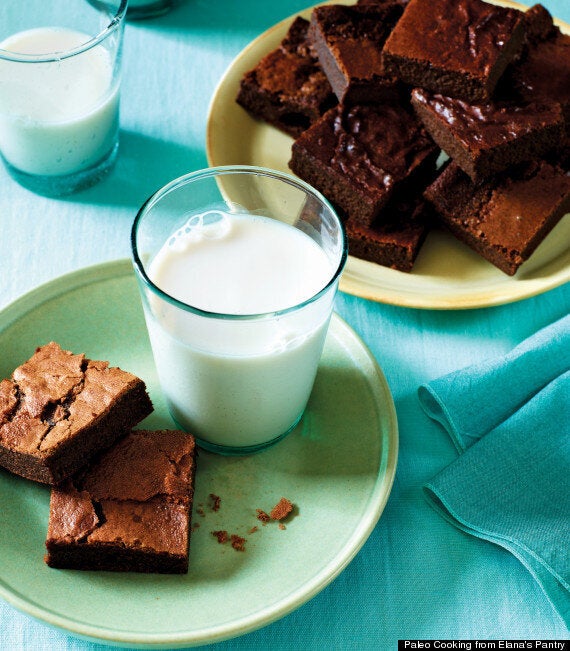 1 cup dark chocolate chips
1/4 cup Spectrum all-vegetable shortening
1 tablespoon vanilla extract
Preheat the oven to 350°F. Grease an 8-inch square baking dish with shortening.
In a medium saucepan over very low heat, melt the chocolate chips until smooth. Remove the pan from the heat, then mix in the shortening and coconut sugar. Stir in the eggs and vanilla extract until thoroughly combined. Pour the batter into the prepared baking dish.
Bake for 20 to 25 minutes, until a toothpick inserted into the center of the brownies comes out with just a few moist crumbs attached.
Let the brownies cool in the baking dish for 1 hour. Cut into 16 squares and serve.