The driver of a white Audi saloon can be seen encroaching on the advanced stop lane when he is confronted by a cyclist.
Instead of reversing the car races off appearing to run over the cyclists foot - all caught on another commuter's head-cam.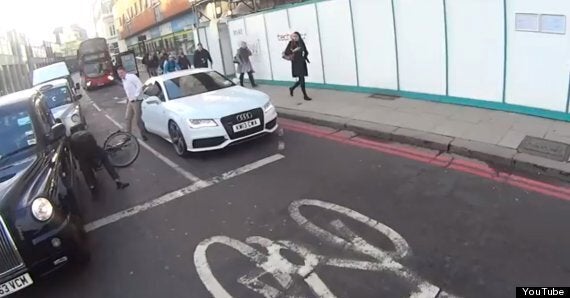 The driver standing over the cyclist
Both he and the other cyclist chase after the car and catch-up with him at the next lights where he calls him a "fucking prick".
The driver then appears to have gotten out of the car and takes a swing.
The clip has been viewed on YouTube over 260,000 times.
The man who filmed told the Evening Standard: "I am surprised that it has got this many hits - I put it up purely to find the cyclist and make a statement that this kind of thing is unacceptable."
Police have also said they were looking for the cyclist to see if he wanted to report the incident which happened at 9:15 last Thursady morning on Farringdon road.
Popular in the Community