Tornados have hit parts of Britain, bringing down trees and even throwing cats into the air.
In Essex, 68 trees were felled, and roofs were damaged on Sunday night. Police said they received 130 calls reporting wind-related damage.
Meanwhile, the Mirror reported that a twister in Surrey lifted four cats off the ground.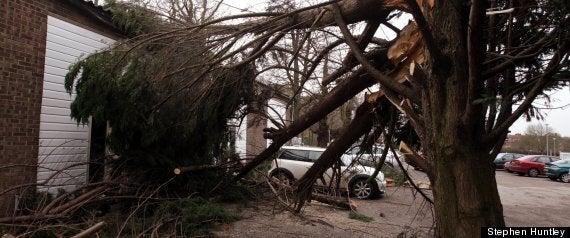 The wind brought trees down and damaged houses
Eyewitness Shirley Blay told the paper: "We've got four feral cats in the yard and they were being lifted off the ground - about 6ft off the ground - they just went round like a big paper bag."
It came as forecasters warned of more flooding.
The Met Office said the counties of Hampshire, Dorset and Somerset remain at medium risk of flooding as another day
or rain hits the regions.
Meanwhile, snow will fall across high ground throughout the UK, particularly across Wales, Scotland and northern England, with some hail storms and thunder predicted.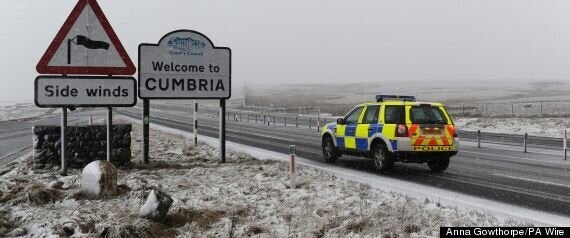 Snow fell in the Pennines
Temperatures will fall to around freezing, resulting in a risk of icy stretches on roads and the potential for travel disruption, the Met Office added.
Somerset County Council has declared a "major incident" after large parts of the county remain under water.
Council leaders, the emergency services and government agencies who make up the Local Resilience forum on flooding met on Sunday night to discuss the flooding crisis.
Related