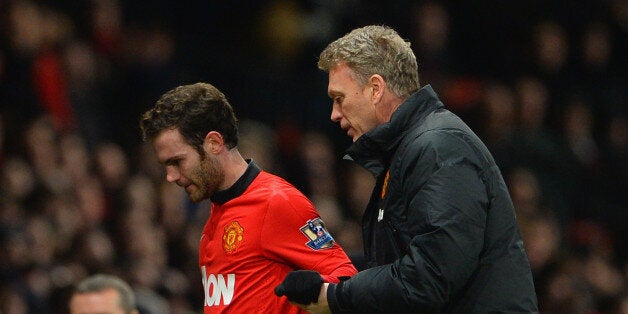 Manchester United manager David Moyes says Juan Mata could be given a free role in his new-look attack but admitted there is a "long way to go" before the club realise his vision.
Wayne Rooney began the match on the bench, which allowed Moyes to start Mata in the No.10 position off Van Persie. When the Dutchman made way for Rooney, Mata retained his role but Moyes hinted he will be afforded more freedom when Van Persie and Rooney line up together again.
Manchester United 2-0 Cardiff: Reds' Relic Overshadows Juan Mata
"I thought Juan did really well. He created some really good openings for us," Moyes said. "I was a little bit concerned about how his match fitness was going to be. But when we got the second goal we gave him some more minutes to keep him playing. We'll get used to him and he'll get used to us. We'll use Juan in different positions. I can play him in any role, I can play him off the left, off the right, it allows me to keep Wayne and Robin as a partnership. I can do that, I'm quite comfortable with that."
Moyes admitted he had experienced a personal lift following the club-record arrival of Mata on Saturday.
"Has my mood improved? Yes, because I've got some really good players coming back. I want to win much better and play much better but where I want to go and the vision that I've got for the way I want my team to play, I've got to say I feel there's a long way to go.
"I think no matter what we had done, to see Robin van Persie and Wayne Rooney out there on the touchline would have been enough to give everyone a lift. But then to have Juan Mata join that as well. I think the crowd saw it as well, he was creative in the early part of the game and he made our best chances in the opening 20 or 30 minutes. I was really pleased.
"Now we've got competition and I can use them at different times. We've got options and I want to be able to do that and Juan Mata creates, scores and you can't get enough of them."
The United manager, however, cast doubt on whether United would add to their squad before Friday's transfer deadline. "I would say no, I don't think I will [buy anyone]. But if something happens, we'll let you know."