A group of students were probably feeling the worst for wear after knocking back almost five THOUSAND Jägerbombs in a single night.
Around 800 students from Canterbury, Kent, downed the huge quantities on a boozy night last week, which equates to more than three quarters of a million calories.
The challenge was set by Student Republic, organisers of weekly student night Jäger Rocks, and saw 930 gallons of Jägermeister consumed, according to The Metro.
One student told the newspaper: "At the time, I thought it was great – cheap drinks are always welcome to a poor student.
"But I ended up drinking so many, I had heart palpitations and I was sick. It was irresponsible, really."
The organiser tweeted: "News just in: you guys drank a record 4,764 Jägerbombs at last Thursday's Jäger Rocks #cheeky", although the post has since been deleted.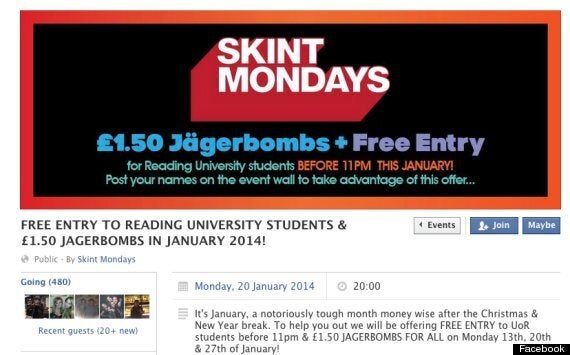 A similar event promotion for Reading University students
One third-year student told website The Kent Tab: "It's always a mental night, but it was better than ever. The Jäger just did not stop flowing."
Professor Paul Wallace, the chief medical adviser for Drinkaware, said: "Caffeine can reduce the sedative effects of acute alcohol consumption, inducing a state referred to as "wide-awake drunk".
"This can put people at risk of alcohol-related injuries because the stimulatory effect can lead them to underestimate the alcohol's impact on their mind and body, giving them a false sense of security."
Emily Robinson of Alcohol Concern said the night highlighted a "very serious problem": "It's outrageous, irresponsible and dangerous for a bar to sell booze in this way.
"If bars sell alcohol to people who are already drunk they are breaking the law.
"When we allow booze to be sold cheaper than water we have a very serious problem."
Related