A safe cycling advert has been banned - because it shows a cyclist not wearing a helmet.
The rider in the Cycling Scotland advert is also riding in the middle of the road.
Banning it, the Advertising Standards Authority said the advert was "condone or encourage behaviour prejudicial to health and safety".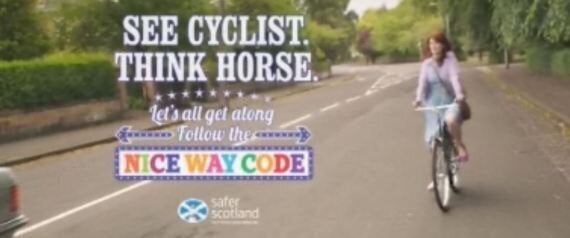 Is this giving the right message?
But cycling campaigners have slammed its intervention.
Gordon Seabright, of the CTC charity, said: "The ASA's ill-advised decision shows a misunderstanding of common cycle safety issues and risks undermining the promotion of cycling as a safe and normal activity."
A voiceover to the ad says: "Not a lot of people know this but you should treat a cyclist the way you treat a horse ... slow down, treat them with care and give them their space on the road."
Cycling Scotland told the ASA that wearing a cycling helmet was not a legal requirement in Scotland but a personal choice for the individual - a fact it considered was reflected in the ad with footage of various cyclists both with and without helmets.
Cycling Scotland also referred to its helmet policy, which discussed the possible undesired outcomes of wearing helmets, including limiting uptake of cycling and "influencing a driver's behaviour to be less careful when interacting on
The ASA acknowledged the ad was primarily aiming to encourage motorists to take care when driving near cyclists.
But it noted that the cyclist in the final scene was not wearing a helmet or any other safety attire and appeared to be more than half a metre from the parking lane.
It said: "We understood that UK law did not require cyclists to wear helmets or cycle at least 0.5 metres from the kerb.
However, under the Highway Code it was recommended as good practice for cyclists to wear helmets. Therefore, we considered that the scene featuring the cyclist on a road without wearing a helmet undermined the recommendations set out in the Highway Code.
"Furthermore, we were concerned that whilst the cyclist was more than 0.5 metres from the kerb, they appeared to be located more in the centre of the lane when the car behind overtook them and the car almost had to enter the right lane of traffic.
"Therefore, for those reasons we concluded the ad was socially irresponsible and likely to condone or encourage behaviour prejudicial to health and safety."
Alison Johnstone, Green MSP for Lothian and co-convener of Holyrood's cross-party group on cycling, said: "This is a ridiculous ruling and is deeply unhelpful in the effort to make cycling an everyday activity. I think the ASA needs to get some perspective.
"Cycle helmets are a personal choice, and their ruling essentially tells cyclists to stick to the kerb when many of us feel safer cycling with plenty of room around us, especially when there are so few dedicated cycle lanes on busy city and town centre streets."