Meet George Burgess. He's a 21-year-old who decided to drop out of Stanford University, start his own business and has even hired his former teacher.
Not only that, the young entrepreneur, who launches his education app Gojimo on Thursday, has secured the backing of Index Ventures, a company which boasts the likes of Facebook, Skype and Net-a-Porter on its books.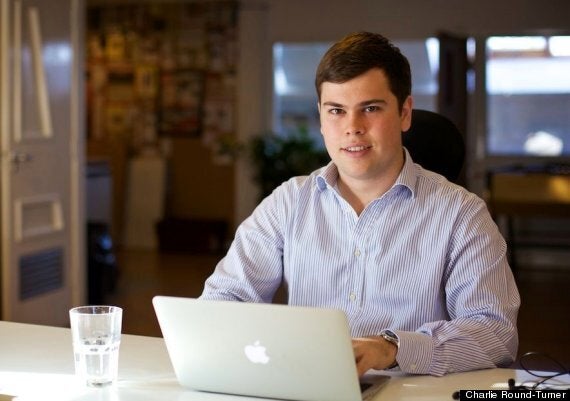 Meet the very talented - and incredibly ambitious - George Burgess
HuffPost UK had a chat with the budding businessman to find out what first inspired him to set up shop at the tender age of 17.
So George, why did you decide to start your own business?
I started the company when I was 17 and still at school. It was 2009 and mobile apps were the next big thing. I was looking at the App Store and realised there were very few quality apps available for students. Gojimo was created to solve that problem. Fast-forward four years and we're now the UK's leading mobile learning company and we've worked with most of the world's largest academic publishers.
And how did you raise the money?
I went through my network and requested intros from anyone who had good contacts in the venture capital world. I spent most of my summer delivering Dragon Den style pitches on a daily basis and in July we were offered a term sheet by Index Ventures. From there it was just a matter of convincing a few angels to join the round.
Is there anything else you would have done if you hadn't started up your own venture?
That was never an option for me. I've always started my own ventures. Prior to Gojimo I was running a filming company at school with a friend - we would film live events and drama productions for London schools and sell the DVDs onto parents. I was also an eBay PowerSeller at the age of 15 and created a bunch of other small businesses as well.
By the sounds of it, you've had some strong support then?
I've had incredible support from a bunch of people. During my gap year I was able to raise a small amount of money from friends and family and used that to hire our first full time iOS developer in London. If we hadn't been able to do that we wouldn't have got anywhere - we were relying on foreign freelancers before.
And we hear on the grapevine you've employed one of your former teachers?
I've had a bunch of informal mentors from a variety of backgrounds, some of who now make up part of Gojimo's board of advisors. One supporter who really stands out is my school Geography teacher, Will Williams. Will wrote the content for our very first app and is still very involved today. He's someone I'm able to bounce ideas off and run things past. He also offers a teacher's perspective which is hugely valuable given the industry. Without him we'd be absolutely nowhere.
So what challenges have you faced? And more importantly, what have you learnt?
Where to begin?! The list is endless. Ultimately I believed i was learning more from running Gojimo than I did from being at university, which is why I left last March. The business has changed a lot over the last four years. It started out as a small project and now it's a high growth startup. In between it was more of a lifestyle business, as we went from publisher to publisher building bespoke apps around their content.
I think we could have made the transition to a high growth start-up a lot earlier - I'd always wanted to build a platform, but we kept telling ourselves we'd do "just one more project" with each publisher. If I had had time to stop and think about it more, I would have forced the transition earlier, but being a full-time student and running the business at the same time made that tough.
I now force myself, from time to time, to take a step back and look at the company from a longer-term strategy perspective. It's really important, otherwise you just get stuck in the constant day to day routine and never evolve.
You sound as if you're full of ambition. What does the future hold?
We want Gojimo to be the number one provider of educational resources for students. We want them to know that no matter what they're studying, no matter where they are, they can come to us and find useful resources which are also easy to use on their mobile or tablet.
Beyond that we have some very interesting ideas about what we can do to make learning more interesting for students, which will begin with some basic gamification functionality we'll be releasing in April.
But down to the million-dollar question: how well are you doing in business?
We're really pleased with everything to date. In the last 12 months we've had over a quarter of a million downloads on iOS and our new app builds on everything we've learnt over the last few years, so we expect that number to massively increase over the next year.
And finally.. who do you look up to?
Funnily enough, the Innocent Drinks founders are some of my idols. As a kid growing up I would read about them in the paper and at one point I even wrote to the company and asked for some information on how it was started. They sent back a booklet which told the 'Innocent Story' and it was very inspirational. I
I'm ecstatic that they've now invested. Another one, perhaps a bit cliched, is Richard Branson. As a teenager I read a few of his biographies and they'd get me really excited about running my own business.