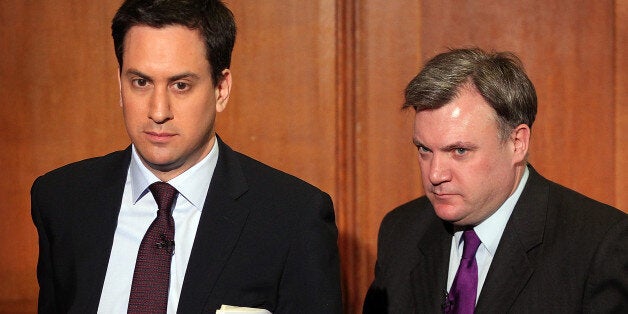 Ed Miliband wants to keep Labour's proposed 50p tax in place permanently, which is at odds with Ed Balls, who only wants it to be temporary, according to former shadow chancellor Alan Johnson.
The Labour MP told an event in Westminster: "There is a difference between the two Eds on the 50p rate.
"Ed Miliband says it's there forever, Ed Balls says no, it's there just for now. I think Ed Balls is right."
"It might not have been right 10 years ago, and it might not be in 10 years time - but it's right for now in a period of austerity".
Johnson went on to declare that the 50p tax measure is "not going to raise an awful lot", which will be awkward for the Labour leadership who have insisted that it will be a significant revenue raiser.
Speaking to comedian Matt Forde on Wednesday, Johnson said he hoped the Labour frontbenchers had overcome any "tensions" between them.
"You always get tensions between a leader and their chancellor - sometimes it's creative, sometimes it's destructive.
"I hope theirs is creative."
A spokesman for Ed Miliband dismissed Johnson's allegations as "not true", adding: "Both Ed and Ed agree the 50p rate is for the next parliament as we get the deficit down".
He said: "I would keep the 50p rate permanently. It's not just about reducing the deficit, it's about fairness in our society and that's why I'd keep the 50p tax rate, not just for a parliament."
Financial secretary to the treasury, Sajid Javid said: "Labour got us into a mess by spending too much, borrowing too much and taxing too much.
"And now Ed Balls is proposing more spending, more borrowing and more taxes. It's the same old Labour - they haven't changed and they have no long-term economic plan for the future.
This comes as the Liberal Democrats have claimed that Labour would borrow £166 billion more than the coalition is planning under Ed Balls' new tax and spending rules.
A Treasury analysis of the shadow chancellor's fiscal rule, released by Lib Dem Treasury Chief Secretary Danny Alexander, suggested a Labour government would still be borrowing billions when the public finances would be back in balance under coalition plans.
But Labour said it was based on "made up numbers plucked out of the air".
Related