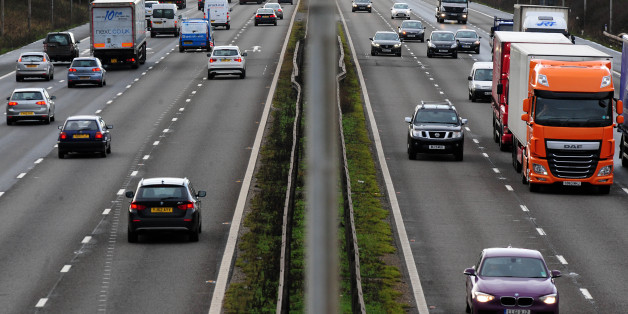 Rui Vieira/PA Wire
One of the men killed in a tragic accident on the M1 yesterday has been revealed to be a Good Samaritan, mown down as he tried to stop another man from plunging to his death from a motorway bridge.
Police have confirmed that one motorist was killed after getting out of his car to try and stop the second man from jumping.
Witnesses added one person fell from a bridge over the motorway, prompting a car to stop in the road and a second person to get out to try to help.
Rebecca Martin, who saw the aftermath of the incident from the Megabus she was travelling on, told the Watford Observer: "We came to a screeching halt and it sounded like a car accident had happened in front of us or something.
"Another car stopped and a man got out to help and was hit by another car. An air ambulance came and took both of the men away.
"It's really bad it's happened and that someone that was trying to help got run over is just awful."
"He was obviously a very courageous guy - a real hero. I don't know what I would have done in that situation.
"It's nice to know there are lovely people out there who would do something like that."
As I just mentioned on @lbc973 this is the scene of the issues on the #M1 between Jct 5 and 6. Are you stuck there? pic.twitter.com/eLQo0Msrwl

— Andy McColl (@AndyMcTravel) January 30, 2014
#M1 J5 (Watford) - http://t.co/TYrXgw7UT4 - Northbound to now remain closed until approx 6pm, South should reopen 2pm pic.twitter.com/xEg3nvHHek

— Motorway Cameras (@MotorwayCameras) January 30, 2014
A Hertfordshire Police spokesman said: "A number of motorists stopped to assist and subsequently one of these drivers was struck by a vehicle. Both men died at the scene.
"The road was closed for a number of hours whilst investigations took place at the scene. Both carriageways are now open."