The bad news - the best thing on British television has come to an end, with Saga and Martin crossing 'The Bridge' for the final time this series.
The good news - it went out with an extremely satisfying bang, not a whimper, with a sad, sometimes surreal, tying up of loose ends, and saving some of its biggest surprises for the very last few minutes.
(The better news - Series 3 is already being written, and will be filmed later this year, so we WILL see Saga and Martin again. But don't let that get in the way of this weekend's wallow…)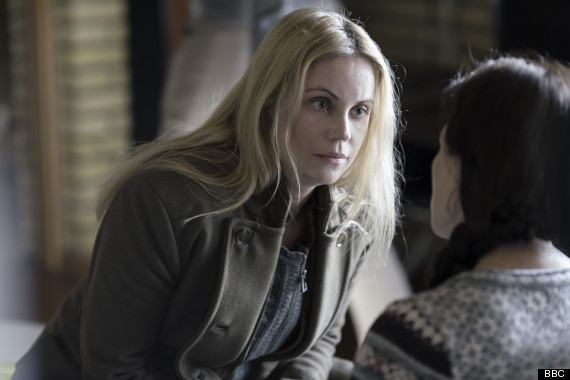 So, why so good? Well, writers and director cleverly sped up the unpeeling of this series' great onion, as our favourite crime-busting duo made sense, piece by piece, of all the spurious connections between a clinal trials company, the various plagues breaking out hither and thither, and one particularly dysfunctional pair of squabbling siblings.
Glacial Viktoria pushed her weak, meek brother too far during one brother-sister altercation, with almost fatal results for her. Fortunately, his placid wife happened to be watching every move via the secret cameras he'd installed himself, and she got over there in the nick of time, to get nippy with the table-lamp. Poor, simmering Oliver, hoisted by his own Hi-8.
Which should have been it, except… he left behind one final errand-boy, let loose with a canister and a key to a passenger-laden aeroplane. Cue Saga and Martin racing to the EU summit, no less. For Oliver's shenanigans turned out to be the mere canapé to the main, far more unsettling dish, some inexplicable cellular plague orchestrated by his unblinking widow - something to do with mutations and aerosols, all a bit technical but definitely pretty deadly, and helpfully popped into Viktoria's leg, to be let loose on the EU crowds.
Hmmm. There's much discussion this weekend (with a City Lit course AND Nordicana all occurring) about 'The Bridge's native ancestry, but I don't remember anything quite on this high-stakes scale cropping up in between Ingmar Bergman's chess moves. But it does make you wonder if Liam Neeson's career could have turned out very differently if he'd been based in the fjords...
Thus, this (slightly) far-fetched but never-boring series built to a frenzied finale as Saga barked instructions for the entire summit to be evacuated, with the exception of poor Pernille, who had the heartbreakingly bad luck to get stuck in the lav with the walking missile. And this is where the real genius of the show was to be found as, just as in Series 1 on the Oresund Bridge, suddenly events slowed right down, and it was just Saga, Martin and a tragedy they could do nothing about. And, unlike his heroics in the hospital, this time, Martin couldn't swap places, much as you just knew he wanted to.
And then… just when it couldn't get more satisfying but sad, the writers pulled one final arrow from their quiver. While we all busy watching Saga save the nation, Martin was throwing himself over the cliff in his quest to get Jens, his son's assailant, out of his head once and for all.
The real gift to viewers? Saga's confusion between justice - of which she is a proven, cool, efficient, highly-functioning instrument - and friendship, at which she is a tentative, nervous first-year student, with Martin her sole guide.
"I've analysed and concluded you are my only friend," she told him logically. And just as logically, she had to surrender him because, as mentioned, she is a proven, cool, efficient….
Oh dear. All pretty devastating for a Saturday night bit of crime drama. I don't think Bergman would have been disappointed.
'The Bridge' Series 2 final episodes are available on BBCiPlayer. The whole series DVD is available from Monday 3 February. Series 3 will be shown next year.