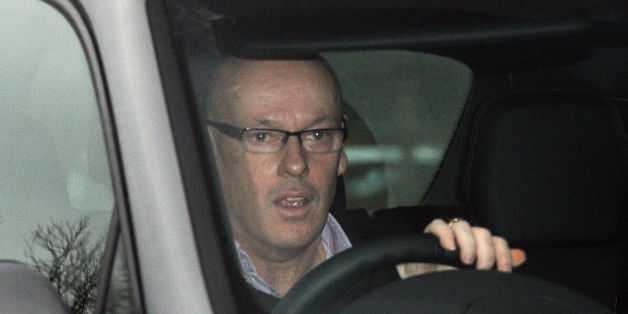 Anna Gowthorpe/PA Wire
Leeds United manager Brian McDermott revealed he discovered he had not been sacked when he read a club statement on his iPad.
McDermott returned to the club's training ground on Monday morning just days after it appeared prospective owner Massimo Cellino had dismissed him.
However, current owners Gulf Finance House (GFH) Capital were forced to release a statement the following day to insist he remained in situ.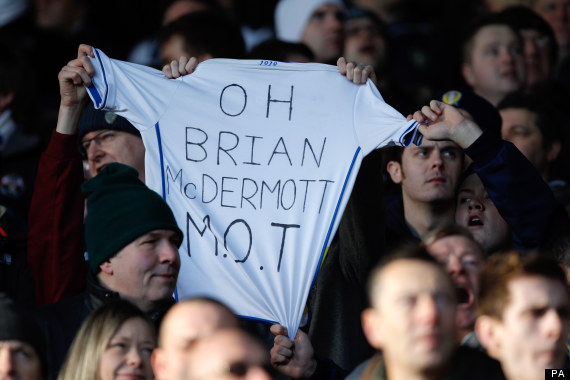 Leeds fans showed their support for McDermott on Saturday
"I saw for the first time on my iPad," McDermott replied when asked how he knew he hadn't been fired. "That was interesting.
"I've been reinstated. The personal support I got from the fans on Saturday was incredible. It's been difficult. I've had certain reassurances about my position [but] we don't know who new owners will be.
"It would have been very easy to walk away. But there's no way I was walking away from a club like Leeds United. I don't hold grudges but this situation should never happen to a manager."
Plenty more questions remain unanswered at Elland Road as the owners seek to sell a controlling stake in the club to controversial Italian businessman Cellino, who owns Serie A club Cagliari.
Cellino, 57, has owned Cagliari for 20 years and has two previous convictions for fraud and, crucially, has yet to have his Leeds takeover approved by the Football League.
There are doubts Cellino, who has a further charge of alleged embezzlement - which he denies - hanging over him, will pass the League's strict 'fit and proper person' test.
Cellino wanted to install friend Gianluca Festa, the former Middlesbrough and Watford defender, as the club's new head coach.
But after GFH Capital's statement Cellino attempted to distance himself from what had happened to McDermott and later revealed he had tried to telephone the former Reading boss in a bid to 'reinstate' him.
Leeds beat Huddersfield 5-1 in their latest Championship fixture on Saturday.