A students' union is facing a backlash after using an image of former dictator of the USSR Joseph Stalin to promote their upcoming elections.
The controversial poster, used by the University of Kent's SU, is promoting Campus Takeover, a week-long event designed to "encourage students to think about campaigning, politics and activism".
It features an image of the Soviet ruler with cartoon eyes, with the tagline "Campus Takeover: Are You Ready?".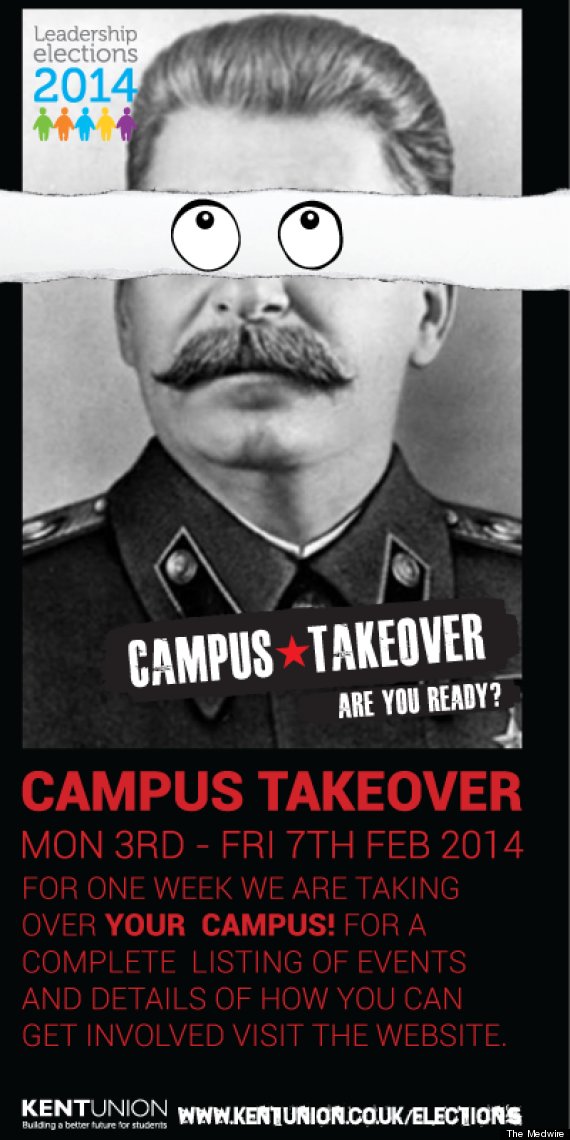 Kent Union has faced widespread criticism for the controversial poster
Kent students have widely criticised the union for the poster. David Lewis, who chairs the 'Your Community' Zone at Kent Union branded it "distasteful and alienating".
Speaking to Kent student paper The Medwire, he said: "Equating a murderous tyrant of tens of millions of innocent people with Kent Union elections is incredibly distasteful and alienating. It's just not funny."
Can't believe that @KentUnion are using a picture of Joseph Stalin to promote a "campus take over" 😠 That's just wrong. Sort it out

— natasha (@tashlonghurst) February 3, 2014
Kent Union issued a statement in response to the student backlash. A spokesperson said: "The posters and leaflets for 'Campus Takeover' are designed to promote and spark discussion."
The union explained the poster is based on two pieces of "protest art": a film poster for Red Monarch, which depicts an image of Stalin with a tomato squashed against his nose; and the "New Labour, New Danger" advertising campaign created by M&C Saatchi.
@KentUnion Are you seriously using a mass murdering Communist Dictator to advertise a 'takeover' and democratic elections? SERIOUSLY?

— Pammie Head (@pammiehead) February 3, 2014
Kent Union added: "The material is not aimed at aligning the organisation with any particular political campaign or party but rather to set out to profile one of the 'Campus Takeover' events – to show the power of cartoons in politics."
But not all students were satisfied with the Union's statement:
@KentUnion I don't think anyone was concerned about KU aligning with a political position (1/2)

— Alex White (@AlexWhiteUK) February 3, 2014
@KentUnion I think it was just plain weird to use a mass murderer to promote liberation and activism events...(2/2)

— Alex White (@AlexWhiteUK) February 3, 2014