Head coach John Fox was on hand to console his quarterback Peyton Manning after the Denver Broncos fell to a humiliating 43-8 loss in Super Bowl XLVIII.
Manning collected the NFL MVP award for the fifth time in his career on Saturday having led the best offence of all-time over the season.
9/11 Truther Crashes MVP Malcolm Smith's Press Conference (VIDEO)
Super Bowl XLVIII TV Spots: Amazing Spider-Man 2, Noah And More (VIDEO)
However, he and Denver came up well short in the finale at New Jersey's MetLife Stadium as Seattle stormed to a comprehensive victory.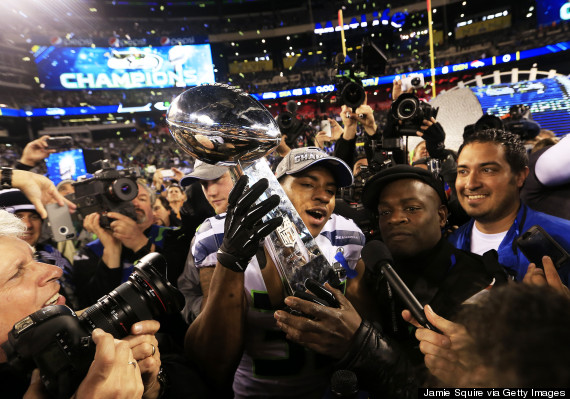 DeShawn Shead clutches the Vince Lombardi Trophy after Super Bowl XLVIII
Asked what he said to Manning after the game, Fox responded: "I told him he had a great season, a record-breaking season and he just came up a little short."
The nature of the defeat is sure to raise further questions over Manning's legacy.
Despite putting up astounding numbers in the regular-season, this defeat leaves the quarterback's play-off record at 11-12 and his Super Bowl mark 1-2.
Speaking about the game, Manning said: "It's disappointing for our entire team. We worked hard to get to this point and overcame a lot of obstacles to be here.
"It is really good to have this opportunity but certainly to finish this way is very disappointing. It is not an easy pill to swallow but, eventually, you have to."
Asked whether the loss will serve as motivation for next year, Manning responded: "I think it will for our entire team.
"I think this team used last year's play-off loss to fuel us. I thought it made us a better team this year.
"Hopefully we can use this to fuel us this off-season into next season as well."
The tone was set in the very first play of the game, when centre Manny Ramirez released the snap amid Manning making alterations at the line of scrimmage.
The ball flew into the end zone for a safety, handing Seattle the fastest score in Super Bowl history after just 12 seconds.