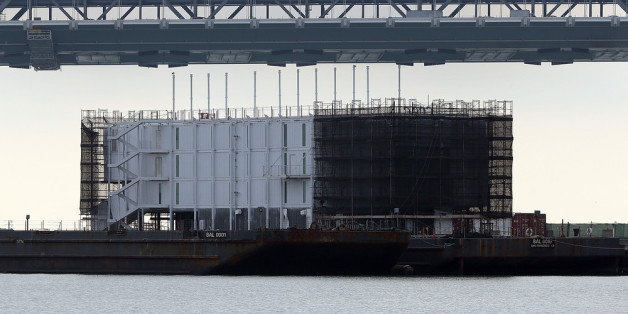 Justin Sullivan via Getty Images
Google has been told to move its massive, mysterious barge off the coast of San Francisco.
Google built the massive barge and moored it off the San Francisco coast last year, resulting in much speculation about what it's actually for.
When another barge like it appeared off the East Coast of the US, it only served to increase the pace of the rumour mill.
It has since been speculated that the barge is some kind of sales space - perhaps for its upcoming full public release for Google Glass.
In a statement last year Google said:
"Although it's still early days and things may change, we're exploring using the barge as an interactive space where people can learn about new technology."
But now it's got to come up with another place for its… interactive space.
The San Francisco Bay Conservation and Development Commission told the search giant that the four-storey boat needed to be relocated. Apparently Google did not have the correct permits for the barge.
The commission's executive director Larry Goldzband said simply:
"It needs to move".
Google has since said in a statement:
"We just received the letter from the San Francisco Bay Conservation and Development Commission and we are reviewing it."