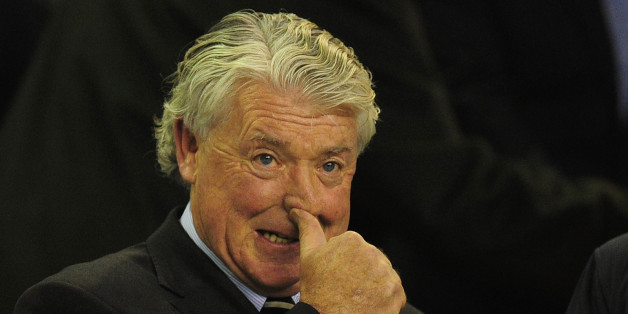 Stu Forster via Getty Images
So farewell, Joe Kinnear, who lasted one month more as Newcastle United's director of football than he did as the club's manager in 2008-09.
Kinnear resigned from his post last night, seven months into a three-year contract, after he failed to permanently buy a single player in two transfer windows and sold the club's most influential player.
Newcastle being Newcastle, in the week Yohan Cabaye (or Kebabs) left for Paris Saint-Germain they were tonked 3-0 at home by Sunderland in the Tyne-Wear derby, which was the straw that broke the paraplegic camel's back.
Kinnear's legacy is one of foul-mouthed tirades, delusion and mispronunciations. Here are some of his finest quotes from both stints...
"Who's Simon Bird? You're a c**t. Niall Hickman? F*****g out of order."
"Charles Insomnia." Charles N'Zogbia.
"Derek Lambeeze was the director of football." His name is Derek Llambias.
"I had over 400 games for Tottenham Hotspur." He made 196 league appearances for Spurs.
"I've been manager of the year three times." Kinnear was the LMA Manager of the Year in 1994.
"I bought Dean Holdsworth for 50 grand." He cost £650,000.
"I sold Robbie Earle for x y z." Earle retired through injury.
"Ben Afra, Yohann Kebabs..." Ben Arfa, Yohan Cabaye...
"I brought (Tim) Krul to the club." No, he didn't.
"Ammomobi." Ameobi.
"Perch is still there." Perch signed after Kinnear left in 2008-09.
"Gaultierez." Gutierrez.
"Last season we were something like 15th or 16th from the bottom." They finished 16th.
"The two years I was there, I got to know Newcastle inside out." Kinnear was there for six months.
"Every top club in the land has got one [a director of football]." No, they haven't.
"I've won every award there is in football as a player." No, he hasn't.
"I think all those qualities put me head and shoulders above every other director of football." No, he isn't.