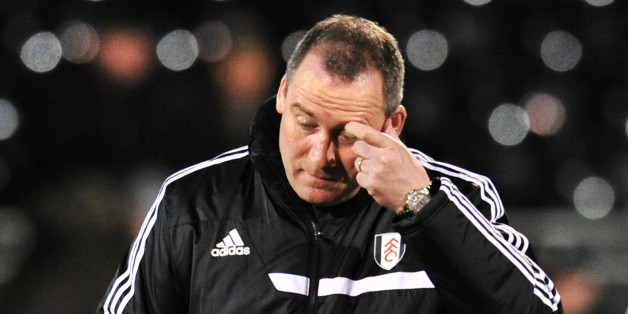 GLYN KIRK via Getty Images
Fulham's transfer deadline day splurge was a reliable indicator of the mess two Dutchman have inflicted upon them this season. A raft of players of questionable quality arrived, and it is unfair on Konstantinos Mitroglou, their unofficial saviour, to be heaped with such intense pressure so immediately.
Sheffield United's 120th minute winner was the most miserable possible ending to Fulham's brief stab at the FA Cup. After the full-time whistle and the begrudging handshakes, René Meulensteen trudged across the sodden turf isolated and bereft of support. He might not even get the chance to return to Old Trafford at the weekend after the latest debacle.
"If you talk about this game and ask 'have we hit rock bottom?', we probably have," the Dutchman told ITV4.
Fulham have conceded 32 goals in the 15 games Meulensteen has taken charge of. Morale is so low and frustration so high at the Cottage that even during their only Premier League win this year against West Ham the supporters booed the team. It was unnecessary and unhelpful, but a reflection of their downfall.
There were legitimate doubts about Meulensteen's appointment. Bottom of the Premier League for the first time during their 12-and-a-half year stint, Meulensteen was always a curious choice to replace Martin Jol at Fulham. A technical coach who was yet to crack the nut as manager at either Brøndby or Anzhi Makhachkala, an interview he gave the Telegraph earlier in the season could haunt him.
Highly regarded at Manchester United and lauded by Robin van Persie as "one of the best coaches in the world", the praise seems to have inflated his ago. Regarding Cristiano Ronaldo's emergence in the 2007-08 season, Meulensteen gave the impression his development was down to his own personal tutoring. One tweeter suggested he'd next claim credit for the Cruyff Turn.
From Ronaldo to Ravel. Not quite, but Fulham's bid for Morrison, however prodigious, was not the right ilk of signing for a relegation battle. Meulensteen has instead brought in young 20-somethings Ryan Tunnicliffe, who effectively ended his chances of a career at United over a drink-driving charge, and Larnell Cole, who has one professional appearance to his name. They will hardly inspire confidence at the Cottage. Experience doesn't mean exceptional, either. Johnny Heitinga has not resembled a Premier League player in two years and Lewis Holtby was a luxury at Tottenham, let alone a side marooned at the bottom of the table.
Dimitar Berbatov's mid-season departure, while inevitable, could be damaging. A seasoned Premier League expert, he lifted attendances at fickle Fulham and Mitroglou will also have to contend with the expectation of replicating the Bulgarian's effect.
What is noticeable from attending Fulham home matches is the sheer impatience the supporters have for the squad's mavericks. Bryan Ruíz was the de facto scapegoat of their campaign until he returned to Holland and the dogged Scott Parker appears to be the most popular player among fans. For Parker, the parallels with West Ham in 2011 are striking. When they went down.