 PA
This spectacular wave crashed onto the coastline as Britain was again battered by storms.
The sea wall railway in Dawlish, Devon, was flooded as high tides and strong winds caused havoc.
Road and rail networks were affected and property was damaged.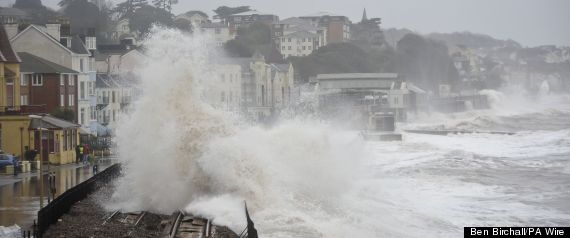 Dawlish in Devon
Stormy weather has left thousands of homes without power as trains are cancelled amid battering winds and severe flood warnings.
Western Power Distribution said there are 14,000 properties without power in the south west due to high winds.
A spokesman for the company said 75-80mph winds had caused "airborne debris" to fly into overhead lines.
"We will be working into the early hours to restore power providing it's safe to do so," he added.
STORY CONTINUES BELOW SLIDESHOW:
But a forecaster at the Met Office said the winds in the south west are likely to "continue along a similar sort of strength" into today, and people can expect weather in other areas to be "much of the same" as they have been experiencing. Prince Charles visited flood-hit Somerset
"The band of rain which is moving across from the south west will continue its journey north-eastwards during the course of the night, with fragmented outbreaks of rain - still pretty heavy - following on behind.
"It will continue to be very windy. We can expect to see gusts of 60-70mph quite widely across parts of south Wales, Devon and Cornwall, Somerset, Dorset, those sorts of areas.
"But even inland we can see some strong gusts too. Otherwise it's much of the same really," the forecaster said.
#NewtonAbbot Further damage overnight at Dawlish (pic) Assessments will be made by our staff. @nationalrailenq pic.twitter.com/byQZ1LjDEQ

— Network Rail (@networkrail) February 5, 2014
Speaking specifically about the south west and the chances of the winds subsiding overnight, he added: "I would suspect they will probably continue along a similar sort of strength.
"That's part of the reason why the conditions have been so bad at the moment, so no, I don't think we're going to see any easing of the winds really until maybe late Wednesday or for a time through Thursday.
"Until then, some very strong winds to come."
Meanwhile the Environment Agency issued three severe flood warnings which are only put in place when there is ''danger to life''.
The warnings are in the south west - at West Bay Harbour, Lyme Regis Harbour and Weymouth Seafront at The Esplanade.
There are 67 flood warnings and 213 flood alerts also in place.
First Great Western Trains have also issued a severe weather notice warning customers that train services between Exeter St Davids and Penzance are suspended "due to current weather conditions in the Somerset, Devon and Cornwall area".
In a notice on the website, the company said: "Due to deteriorating rail and road conditions across the area we are advising customers not to attempt to travel for the rest of today."
The bad weather continues hours after the Prince of Wales said the "tragedy" on the flood-hit Somerset Levels is that "nothing happened for so long".
Charles made the remarks as he met local farmers, flood victims and emergency services personnel who have been affected by the on-going disaster.
He pledged a £50,000 donation to support flood victims, with the Duke of Westminster matching the funding with an additional £50,000.
Charles' comments came amid growing anger over a perceived lack of Government action to help flood-hit areas on the Levels.
Residents have begged the Environment Agency to start dredging, with many complaining they are living in "third world" conditions with "overflowing" septic tanks.
The prince was recorded by ITV News making the comments during a reception of 80 people in the village of Stoke St Gregory.
"There's nothing like a jolly good disaster to get people to start doing something," the prince said. "The tragedy is that nothing happened for so long."
Charles braved heavy winds, flooded roads and rain to attend the 45-minute-long reception, which was said to provide a "much needed" boost to the local community.
The Somerset Levels suffered "once in 100 years" flooding in July 2012, but has endured even worse conditions from December 2013.
More than 128,000 acres have been deluged - at a huge cost to local farmers - with around 40 homes under water and 200 more cut off.
After attending the reception in Stoke St Gregory, Charles went to a pontoon at Huish Episcopi to catch a police operated boat, which is ferrying residents to the villages of Muchelney and Thorney.
Both villages have been cut off by the floods and are only accessible by boat or 4x4 vehicles.
Local farmer Mike Curtis, whose home was flooded for the second time in a year, escorted Charles to Muchelney, where he was greeted by dozens of residents.
Charles then rode to Mr Curtis' farm on a trailer with a garden bench attached, which had been decorated with flowers.
He sat on the bench in a green weatherproof jacket and black wellington boots as the trailer was pulled through flood waters by a tractor.
His reception in Somerset was in stark contrast to that of Environment Secretary Owen Paterson, who drew criticism for arriving at Northmoor last week in a pair of smart city shoes.
Environment Agency boss Lord Smith has also come under fire from some in the area who believe that river dredging by the agency could have reduced the scale of the flooding.
Mr Curtis, with his wife Jenny and their two children, Rebecca, three and Tabitha, one, showed Charles their flood-damaged home and farm.
Speaking after the visit, Mr Curtis said: "He was a complete gentleman. The prince was very understanding and very sympathetic to our needs and was genuinely concerned and interested. His support will make a difference.
"He is very interested in farming and we talked about particular animal welfare issues that we currently face with the flood water."
He also discussed with Charles the controversial issue of dredging the rivers on the Somerset Levels.
"He was understanding the point that the rivers have not been dredged for 20 something years and that if we don't maintain it, it will deteriorate and will only get worse," Mr Curtis added.
Charles' £50,000 donation will come from The Prince's Countryside Fund, of which he is patron.
The Farming Help Partnership, made up of the Royal Agricultural Benevolent Institution, Farm Community Network and the Addington Fund, has been allocated £25,000 of the emergency funding.
A further £25,000 has been given to the Somerset Community Foundation, which will provide emergency relief grants to small businesses and those affected by flooding.
The money will pay for emergency repairs, compensation for loss of income, damage to shop stock and increased petrol costs.
David Cameron's official spokesman said the Prime Minister had himself called the situation of Somerset residents "unacceptable".
"The Prime Minister has said that the situation people very sadly have found themselves in is a desperate one, it's an unacceptable one, and that's why it's so important that we do everything that we can to help them," he said.
Following the prince's visit, Avon and Somerset Police announced further pumps had been deployed to the Levels to help drain water.
There are now 11 pumps installed across the area, with two more held in reserve. The three new pumps have been installed at Fordgate and Moorland.
"This remains the biggest pumping operation the country has ever seen," the force spokesman said.
"Nearly 70 pumps are working round the clock, draining an estimated 1.5 million tonnes of water - equivalent to 600 Olympic swimming pools - off the Levels every day."
Residents have been evacuated from 30 flooded houses in Kingsand, Cornwall and Tamar Coastguard Rescue Team have helped to rescue "a number of people", the coastguard said.
Meanwhile, there has been further reports of flooding in Looe, where people have been advised to stay away from the seafront amid fears of huge waves battering the coast.
There are also reports that the sea wall had collapsed in Dawlish, Devon, where two people had to be rescued having been rapped in a car.
David Colmer Brixham Coastguard Watch Manager said: "As we have severe gale storm force winds, high tides and heavy rain, HM Coastguard is urging people to stay away from the coast.
"In this part of the country, conditions on the sea and along the coast are currently extremely treacherous.
"HM Coastguard's advice is simple: don't take risks by straying too close to cliff edges or breaking waves and please stay out of flood water. But if you do get into difficulty, or spot someone who might be in trouble, call 999 and ask for the Coastguard."
Around 39,000 homes have had power restored to them overnight, with 5,000 homes still without electricity.
A spokesman for Western Power Distribution said around 200 engineers have been working throughout the night to repair damage caused by debris being blown into overhead lines by strong winds in the south west.
"Over the last 12 hours or so 44,000 customers in the south west have been off supply at some point but we've managed to restore it to all but 5,000 homes," he said.
"It's an extremely exceptional event.
"We have new staff being drafted in from nearby to replace our teams this morning. We have a constant approach to this because of the ongoing strong winds."
The Environment Agency now has four severe flood warnings in place across the south west of England.
A fourth warning was added to the south Cornwall coast region where severe flooding is expected this morning which could pose a significant threat to life.
The Met Office has also issued "be prepared" amber warnings for strong winds sweeping across southern England and Wales.