While Flappy Bird's success on the Google and iOS app stores has been massive - almost overwhelming - many with a more sceptical eye have wondered about how exactly that state of affairs came about.
And let's face it, part of this concern is down to the fact that the game itself - what little there is of it - is almost entirely awful. It's a buggy, annoying mess, and everyone in their right mind should play it once and delete it.
But now questions are starting to be raised about whether the app's success really is too good to be true.
The game was released in January, but lingered at position 1454 on the App Store until it leapt all the way to number one in games on January 1.
The number of downloads it received in this short space of time is astronomical - almost unheard of.
The game's creator - Dong Nguyen from Vietnam - said he just "got lucky". But a blog post at Blue Cloud Solutions speculates that while he can't prove it, he suspects the app's popularity may have been artificially boosted by bots, mass downloads or other nefarious schemes.
"I can't prove this and there are strong cases for lots of different potential growth strategies, but I do want to bring this up to engage a discussion and get industry leaders to weigh in with some analysis so that we can find out how this happened," said Carter Thomas at Blue Cloud.
Thomas points out that Dong's other games rose in popularity massively too at the same time - without any cross promotion. He says that reviews of the games repeat words - "glitch", "pipe" and "addicting" are all used often.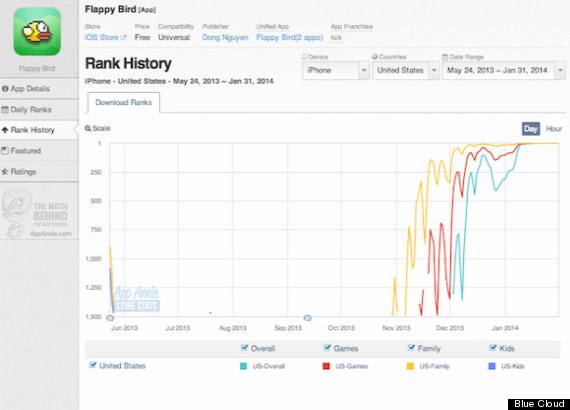 He adds that Flappy Bird has now be rated more than 97,777 times - more than Twitter's official app.
"I don't think there is any app on the app store that has this many consistently morbid reviews that use the same words over and over and are posted in such regularity. If I am wrong, please let me know and we'll start a petition for Apple to stop approving such life destroying apps."
Intriguingly, Dong has now denied that he used any "special" means of promotion.
Press people are overrating the success of my games. It is something I never want. Please give me peace.

— Dong Nguyen (@dongatory) February 4, 2014
"I am sure I didn't use any kind of promotion."
If course, it's possible that the game is just a true viral success - in the same manner as Gangnam Style or Doge.
And now it's at the top of the free app charts, the visibility is high enough that it has its own momentum. But how the app got there in the first place - or what magic ingredient it contains, other that massive, overwhelming crapness, might remain a mystery.