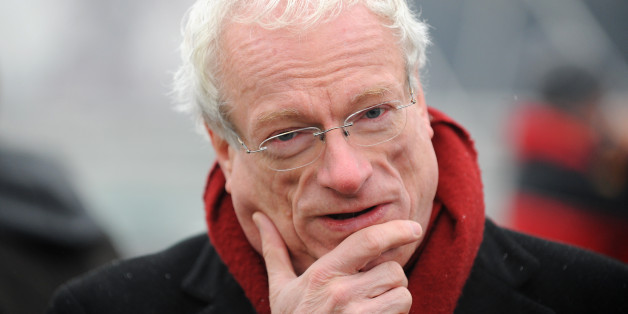 Dominic Lipinski/PA Archive
Environment Agency chairman Lord Smith has no intention of resigning and remains "very proud" of the work of his staff, he said as he visited the flood-stricken Somerset Levels today.
Speaking from the flood-affected village of Stoke St Gregory, Lord Smith would not be drawn into apologising to residents who have been evacuated from their homes, but insisted that the top priority for authorities was "protecting lives", followed by protecting homes and businesses.
The under-fire peer said: "I have no intention of resigning because I'm very proud of the work the Environment Agency and its staff have been doing right round the country in the face of the most extreme weather."
Lord Smith's visit - a week after Environment Secretary Owen Paterson was heckled by local residents - comes as Royal Marines were helping evacuate some 140 properties in the village of Moorland.
Conservative Ian Liddell-Grainger, who represents Bridgwater and West Somerset, said: "I will tell him what I bloody well think of him - he should go, he should walk.
"I'm livid. This little git has never even been on the telephone to me. When I find out where he is, I will give it to him. He has not told the local MPs, the local council or the local press where he is going to be. He's a coward."
Another night of heavy rain overwhelmed local flood defences and, despite advice from police, a handful of people have chosen to remain in their homes.
Around 5,000 properties have been affected by flooding across the country, including 40 in Somerset, and more flood misery is expected in the coming days, with severe weather alerts in place for south east England, the South West and Wales as more wet weather is forecast.
SEE ALSO: 14 Heartbreaking Pictures From The Somerset Levels (PHOTOS)
Lord Smith's visit to the Somerset Levels was his first since it was hit by floods, and he met residents who have been worst affected.
Speaking from the Willows and Wetlands Visitor Centre in Stoke St Gregory, he said: "I am very proud of the work that the Environment Agency staff have been doing up and down the country over the course of the last two months.
"We have been faced with the most extreme weather that we have seen for years, we have had the wettest January since records began, this has been a major, major challenge for everyone up and down the country.
"The Environment Agency staff have been working their socks off to try and sort this out for everyone."
Asked why he had not apologised to residents, he said: "I have said to the people here what we did last year, what we've been preparing now, the work we're currently doing, and I think the important thing now is to work out what we can do for the future of Somerset, what can now happen, and that's what I'm primarily talking about with the local people here."
Lord Smith denied making the controversial comment that Britain may have to choose whether it wants to save "town or country" from future flooding because it is too costly to defend both.
He said: "I have never said it is a choice between saving the town and saving the country. What I have said is that the clear priorities that have been set for us by successive governments is: our top priority is protecting lives; our second priority is protecting people's homes and people's businesses; our third priority is protecting as much agricultural land as we can. That's the order of priority, that happens in both the town and the country."
Asked if he could promise there would not be a repeat of the disaster next year, the peer said: "I don't think anyone can promise that we won't see the sort of rainfall that we have been having over the last few months.
"What we are seeing is increasing levels of erratic weather, very extreme amounts of rainfall. I suspect we are going to see more of that over the next few years.
"What we need to do is find the best possible ways - dredging is probably one of the ways but it's not the only way - and there will be lots of other things we need to see if we can do in order to try and protect Somerset for the future."
The Environment Agency chairman, who said he could "absolutely understand" residents' frustration, said he would be visiting other parts of the Somerset Levels to see the impact of the flooding.
Local councillor Julian Taylor, who was evacuated on Wednesday and has moved into a holiday cottage, said earlier: "I think it's all very well for politicians in Westminster to send condolences and say that they're going to do things, but the issue is now that we're reaping failure of something like about 50 years of bad maintenance and short-term policies.
"And it's individual suffering of people having to cope... I've seen farming friends pushed to the brink of disaster on their farms."
He said families were being uprooted from houses they had lived in for generations, and if the area had received a "proper response from the Government last year" they would not be in this position.
Cornwall county councillor for Porthleven and Helston West Andrew Wallis told BBC Radio 4's Today programme there had been a "mute" response from central government over pleas for help in repairing its infrastructure amid planned financial cuts.
Councillors are now asking for a meeting with ministers and will lobby them to apply to the EU for support from the Solidarity Fund.
An angry businessman whose village has been affected by flooding that has devastated the Somerset Levels said he was "bloody mad" that Lord Smith had refused to apologise to him personally.
Jim Winkworth, a farmer and landlord of the King Alfred pub in the tiny village of Burrow Bridge, said Lord Smith had failed to provide answers to his questions.
Asked how he felt by Lord Smith's refusal to apologise, he said: "Bloody mad. We thought that's the least he could do today and he's not apologising or admitting any liability.
"He hasn't come down here to apologise, which is what he should be here for. If you apologise it means you're admitting you got it wrong, I made a mistake, I'm sorry, I messed up but he's not fit to do that."
Lord Smith's visit to Somerset came as Transport Secretary Patrick McLoughlin travelled to Devon to see the Dawlish damage, which is going to take around six weeks to repair.