'24' star Kiefer Sutherland admits that he's never actually watched an episode of the show that's made him a familiar face all over the world.
The US actor tells Jonathan Ross on his show, being broadcast this weekend, "I haven't watched an episode of 24, no. But I know how it goes, I have read the script.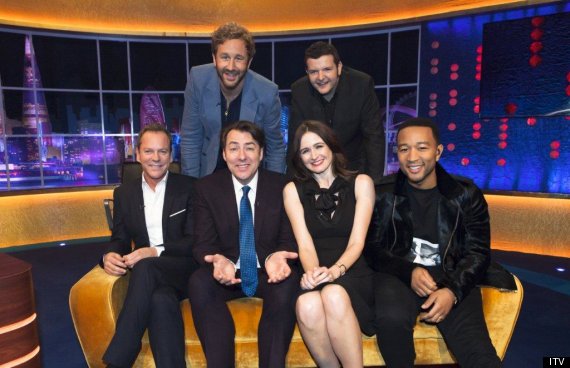 Kiefer Sutherland with Jonathan Ross and guests on this week's show
"I don't watch the films I've made. I think the last one I watched was Stand By Me. I had a girlfriend and we went to the cast and crew screening and I had a very specific idea of what I wanted to do with the character.
"I was standing there, we watched the movie and everything I thought I wanted to do, I hadn't done at all. All I saw was myself up there and I was mortified and my girlfriend was saying, 'I thought it was really great.' I said, 'Don't patronise me. I need to get another job. If I don't get another job and this comes out I'm dead and my career is over.' It was really lucky for me because there was another film that I didn't want to do that I took because of that, which was 'Lost Boys', so clearly I am not the person to watch my own work."
The ninth series of '24' is currently being shot in London, the first time it's been filmed outside the US, and Kiefer admits there was an upside to the tube strike that occurred for 48 hours this week...
"The tube strike has actually made me feel a lot better about this because London is a really congested town and even if we only take over a block (for filming) they have to re-direct traffic and you can see it starting to pile up and then people start watching what you're doing, so people stop their cars to see what's happening.
"So I'm very nervous, having shot in New York where people are very glad to have you in the first couple of weeks and then they want to kill you because of the traffic. So this is my aforementioned apology to everybody in London if we do cause you any traffic. But after the tube strike we're not going to do anything like that. It's going to be fantastic. We're not going to be even close to that."
He would only give some tantalising clues to the plot line of the new series, which will only have 12 episodes this time instead of the usual 24. However, the series will play out over 24 fictional hours in the traditional fashion, which means there are going to be some gaps in the 'real time' that has given the show its distinctive flavour.
"It's a terrorist threat. There are a couple of other changes. I can't go into it at length but some of the characters that are more familiar to the audience that are coming back, their relationships in these last four years have dynamically changed as well, so it will be very fresh because it feels very fresh to do it right now. At the root of it, he's (Jack) going to have a shitty day."
Kiefer Sutherland appears on The Jonathan Ross Show on Saturday at 9.55pm, ITV. Other guests include Emily Mortimer, Kevin Bridges, Chris O'Dowd and musical performance from John Legend.