According to the town's mayor, there are no gays in Sochi. There are, however, two fake ones.
Russian pop duo tATu, long thought to have disappeared into blissful obscurity, will perform at the opening ceremony of the Sochi Olympics.
The pair will apparently not perform their classic schoolgirl snog-a-thon 'All The Things She Said', but their follow-up single (which sounded basically the same) 'Not Gonna Get Us'.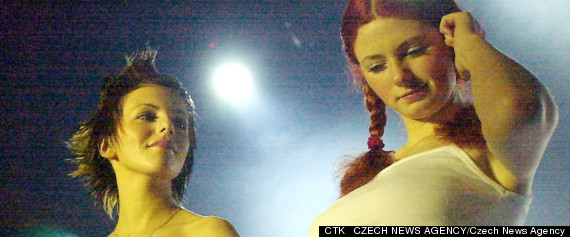 Russian pop duo Tatu Yulia Volkova (left) and Lena Katina
The event's producer Konstantin Ernst told the Associated Press that tATu's hit was chosen because it's one of the only Russian pop songs that international viewers might recognise. And the 'Not Gonna Get Us' lyrics could be a motivational song for athletes, rather than two besotted schoolgirls fleeing the gay-bashers.
The confirmation of the performance was greeted with surprise on social media:
Bloody cunning of Russia to neutralise this anti-gay stuff with a pair of hetrosexual popstars who pretend to be lesbians to titillate men.

— Hugo Rifkind (@hugorifkind) February 7, 2014
Seems Tatu will perform at Sochi OC. No idea what "gay propaganda among minors" actually means, but if anything comes close it's a Tatu vid!

— Shaun Walker (@shaunwalker7) February 7, 2014
The band, who are not real lesbians, have not been outspoken on gay rights, even though their name is linked to the first letters of the Russian phrase "Эта девочка любит ту девочку", meaning "This girl loves that girl".
One member, Lena Katina, married her boyfriend of three years in August, and the other, Julia Volkova, has two children and was in a long-term relationship with businessman Parviz Yasinov, with Russian tabloids reporting she had converted to Islam to be with him.