Forget the sportsmen and women arriving in Russia, the real stars of the Sochi Winter Olympics are the toilets.
As reports of total chaos emerge from visiting journalists, the toilets have become something of an emblem of the incompetence surrounding final preparations for the Games.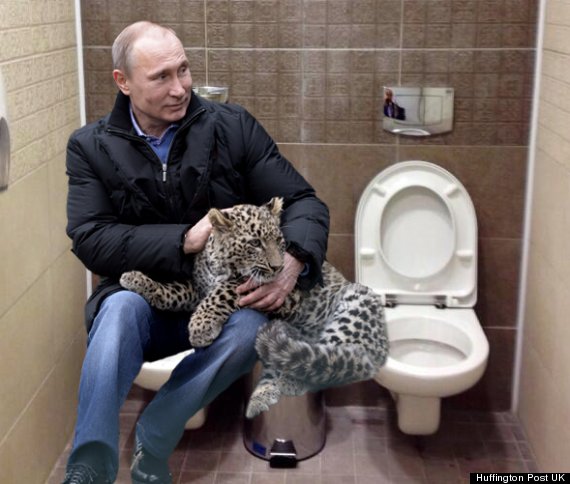 Putin... or should that be Pootin?
READ MORE: Putin's Leopard 'Friend' Cuddles Russian Leader, Attacks Reporters
It all started when the BBC's Steve Rosenberg took this snap:
Seeing double in the Gentlemen's Loo at the Olympic Biathlon Centre #Sochi pic.twitter.com/a1HoilU9zn

— Steve Rosenberg (@BBCSteveR) January 20, 2014
The journalist swiftly had to deny accusations that the image was photoshopped before it slowly began to sink in around the world that no, this is actually how visitors would be expected to relieve themselves in Russia.
Just to make clear, this is not photoshopped. You can see my reflection in the flusher. #Sochi #Olympic loo pic.twitter.com/LONZhbt6pZ

— Steve Rosenberg (@BBCSteveR) January 21, 2014
So, you want to poop in Russia? How could this novelty set up be used to an advantage?
@BBCSteveR Competitive pooping.

— Robert Coalson (@CoalsonR) January 20, 2014
Sadly, it has now emerged that the double loos have begun a new life – reincarnated as bedroom furniture:
I see the Sochi double toilets have been replaced by triple toilets disguised as stylish three-drawer cabinets. pic.twitter.com/aQlpABe9CA

— Bryan Appleyard (@BryanAppleyard) February 7, 2014
But the toilet troubles faced by visiting press and athletes has turned into a public relations nightmare for the organisers of the Games.
Here are our favourite toilet tweets from those in Russia:
Kazan University on the eve of the Summer Universiade 2013. Image: BBC cameraman Max Lomakin pic.twitter.com/s9PDECpSrN

— Steve Rosenberg (@BBCSteveR) January 21, 2014
@okuzmenkova @ilya_shepelin @dm_e @maxseddon пфф тоже мне новость.Автоцентр в Одинцово! pic.twitter.com/vKc2YXr79x

— Иван (@ivann2004) January 20, 2014
No toilet fishing, shame.
Well that's interesting... Sochi rules in the bathrooms!! #haha #olympics pic.twitter.com/xacSVimwXY

— Sebastien Toutant (@SebToots) February 1, 2014
Прибывающие на олимпийские игры иностранные спортсмены с удовольствием позируют в диковинных туалетах города Сочи pic.twitter.com/NFzUmybHar

— Илья Яшин (@IlyaYashin) February 3, 2014
Ещё туалет в Сочи. Теперь с местами для жюри... pic.twitter.com/IB4Vzmy9u9

— Politicana.ru (@PoliticanaRu) February 3, 2014
People have asked me what surprised me the most here in Sochi. It's this. Without question ... it's ... THIS. pic.twitter.com/1jj05FNdCP

— Greg Wyshynski (@wyshynski) February 4, 2014