It's going to get worse before it gets better...
Forecasters have warned that 70mph winds and further downpours that have hit large parts of the already saturated south of England will last into next week.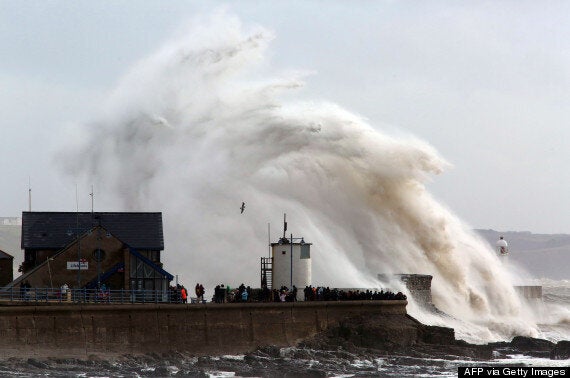 People look on as high waves strike the harbour wall at Porthcawl, south Wales
Police refused to be drawn on whether the illness was due to carbon monoxide poisoning but said flooding in the town was "one line of inquiry" being pursued.
The crisis-hit Somerset Levels - where many residents have already been forced from their homes after weeks of heavy rain - remain at the highest risk of continued flooding.
Story continues after slideshow...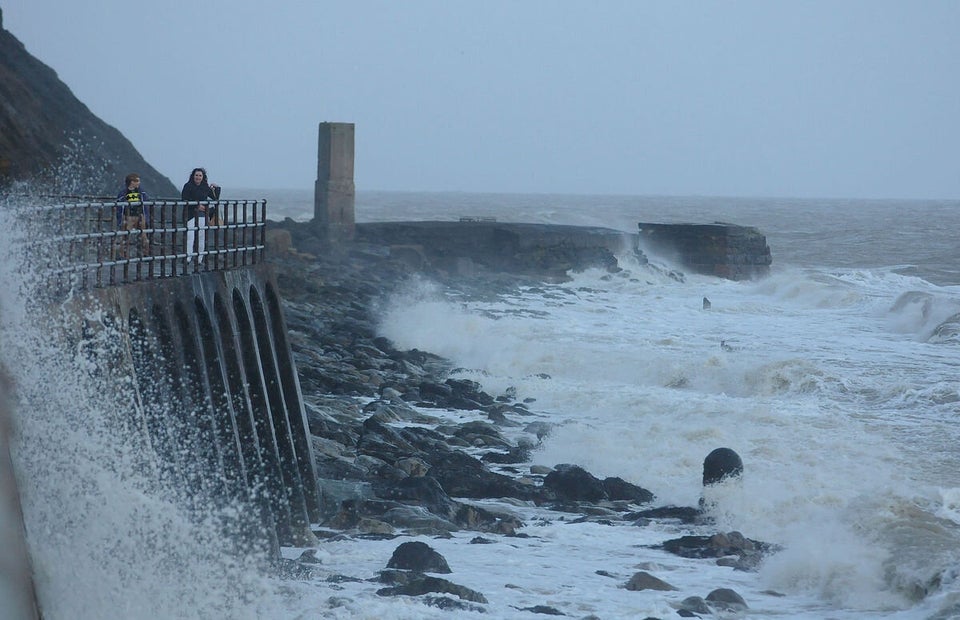 There are nearly 300 low-level flood alerts and almost 200 medium-risk flood warnings in place across Wales and southern and central England, while several hundred homes in Dorset, Surrey and Cornwall were without power.
Precautionary measures were also being taken to protect vital water and electricity plants from flooding to ensure that homes are not left without supplies.
The West Country is now completely cut off by rail and operators have put on replacement bus services and slashed ticket prices for passengers.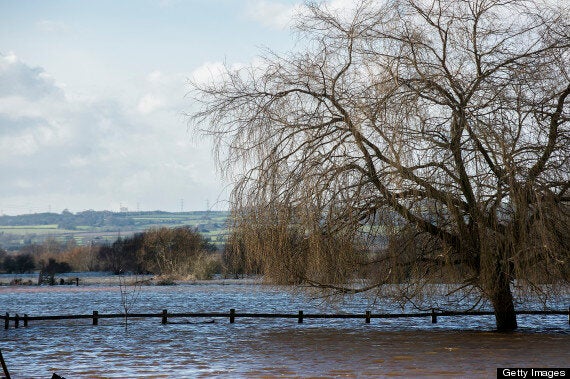 Flooding on the Somerset Levels
Flooding at Athelney and between Taunton and Bridgwater in Somerset means that all mainline routes to the region from London are closed.
The diversionary route via Yeovil is also closed at Crewkerne because of a landslip and is expected to remain shut for up to a week.
This latest blow comes days after a stretch of the rail line connecting Cornwall to the rest of the country fell into the sea at Dawlish in Devon when an 80-metre stretch of the sea wall was destroyed by high tides and stormy seas.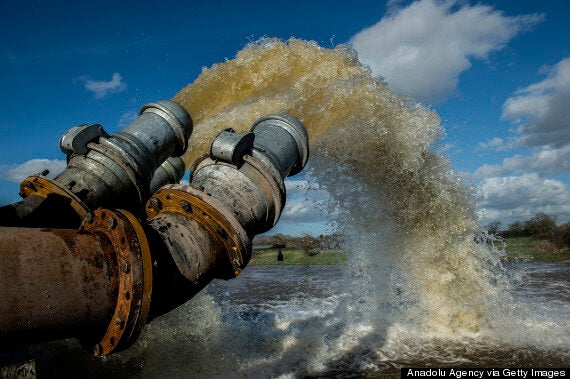 Pumps on the Somerset Levels extract around a million tonnes of flood water a day
The Met Office was warning that further rain, wind and waves were likely to cause more flood risks this weekend and into next week as river levels continue to rise along the Thames, the Severn and the Dorset Stour.
England has faced the wettest January since 1766, and with the ground already saturated, further rainfall is increasing flood risk across the country, especially in the south.
Successive bands of rain that have been affecting the country all week are expected to ease on Monday before continuing again from Tuesday.
This house is now completely surrounded by rising flood waters in Somerset
Since before Christmas around 5,000 properties have been affected by flooding across the country, including 40 in Somerset.
Paul Gundersen, Met Office chief meteorologist, said: "We have another Atlantic storm bringing gales and heavy downpours to many parts of the UK this weekend.
"Monday is expected to bring a brief respite from the stormy conditions before more strong winds and rain set in from the west on Tuesday.
"This will bring the continuing risk of flooding and damaging winds bringing down trees to cause disruption to travel and power networks."
Pete Fox, head of strategy and investment at the Environment Agency (EA), said: "The weather continues to be hugely challenging, with further wind and waves threatening the south west coast and even more rain threatening to cause flooding along rivers across the south west, central and southern England.
"We urge people to stay safe and not to walk or drive through flood water which can be dangerous and to take care near coastal paths and promenades for fear of being swept away."
The Ministry of Defence has put 1,600 personnel on six hours notice to help in the south of the country if needed, the Government said.
EA staff have been out in force across England to try to stop more people falling victim to the storms by installing flood defences, repairing damaged coastal defences, deploying sandbags and clearing river blockages.
At Chiswell in Dorset the authorities are being assisted by the armed forces to shore up sea defences that were damaged in last week's storms.
On the Somerset Levels demountable defences that were requisitioned from other parts of the country have been erected to help protect homes in the village of Fordgate and Northmoor.
The pumping operation is continuing day and night, with nearly three million tonnes of water being pumped away every day - the equivalent of three Wembley Stadiums.
The River Thames in the Chertsey area of Surrey burst its banks and homeowners were warned to expect flooding.
In Kent, there was localised flooding in parts of Bridge, near Canterbury. In Yalding - which was badly hit over Christmas - the Little Venice caravan park flooded again.
In East Sussex, the ruined 148-year-old, Grade-I listed West Pier in Brighton survived another night of stormy weather after a large section collapsed into the English Channel on Wednesday.
And an elderly woman has been taken to hospital with serious injuries after a tree fell on to a white Ford Fiesta in Birmingham.
The continued storms come after the Prime Minister pledged to do everything he can to help the flood-stricken communities of the Somerset Levels but warned solutions would take some time.
David Cameron's visit to the region yesterday coincided with a trip by beleaguered EA chairman Lord Smith to the area, where he faced furious residents and calls to quit.
Cameron and Lord Smith's visits - a week after Environment Secretary Owen Paterson was heckled by local residents - came as Royal Marines were helping evacuate some 140 properties in the village of Moorland.
Another night of heavy rain overwhelmed local flood defences and, despite advice from police, a handful of people have chosen to remain in their homes.
Meanwhile, Communities Secretary Eric Pickles chaired another meeting of the Cobra emergency committee tonight and said the Prime Minister would lead tomorrow's meeting.
"We are continuing to make sure every preparation is made before the severe weather expected overnight and into next week," Pickles said.
"Local authorities, the military and the emergency services have continued their sterling work on the ground.
"I want to reassure the public that work continues to protect homes and communities.
"In addition strategic sites such as water and electrical plants are being given special attention to ensure that homes are not left without vital resources.
"This includes distributing extra sandbags and water pumps.
"I want to once again pay tribute to everyone who has rallied to support those who need help and reassure the public that everything possible is being done to protect people's homes and livelihoods."