Nigel Farage, wearing wellies that Environment Secretary Owen Paterson was derided for foregoing, used his weekend trip to the West Country to call on the government to slash funds for overseas aid to divert money to help residents, who have been campaigning for the local rivers to be dredged.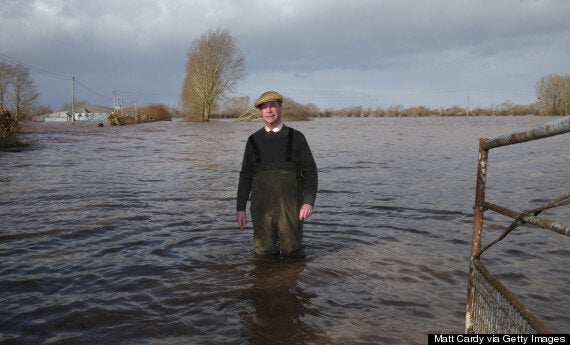 Farage visited a flooded property at Burrowbridge on the Somerset Levels
Ukip has three councillors on the local county council. Farage, who was stationed at the King Alfred Inn at Burrowbridge, said: "I think the government's reaction to this has been pretty poor. They haven't offered a penny for the farmers, for the people here.
"My message is: 'Please government, for once put the people first. It would take a tiddly per cent of the overseas aid budget to say to people, however horrible this is, you won't suffer financially."
The prime minister David Cameron made a flying visit to the area on Friday, arriving by helicopter for a brief photo opportunity.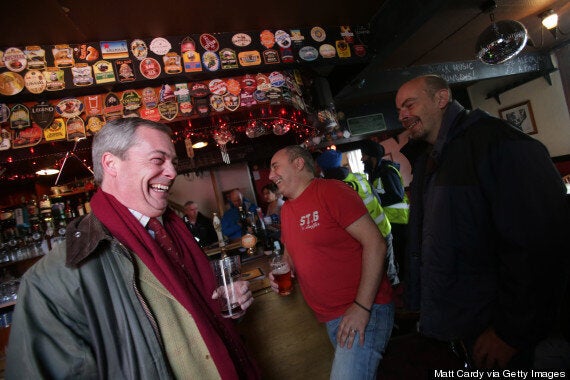 Farage talks with locals as he enjoys a pint in the King Alfred Inn at Burrowbridge
Deputy Prime Minister Nick Clegg is the third party leader to visit the stricken area, arriving mid-morning on Monday. He will be back in London by this evening, to give a speech at Mansion House on the economy.
"What you want is the emergency services there, you want help in order to avert the worst, and you want help to get yourself and your family back on your feet.
"We've just announced £130 million of additional money to help deal with this and hundreds of millions of pounds go into flood defences all the time."
Popular in the Community