The Met Office has issued a red weather warning - the most severe level of threat - for "exceptionally strong winds" of up to 100mph in western parts of Wales and some north-western parts of England tonight.
Winds of 80mph are expected widely in those areas and gusts could reach up to 100mph in the most exposed locations, potentially hitting power supplies, bringing down trees and causing widespread damage.
In addition, large waves could affect some coastal areas.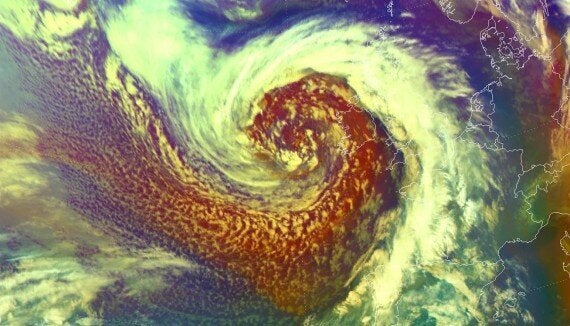 A storm bringing winds of up to 100mph is set to hit the UK
Water surrounds flooded properties in the village of Moorland Somerset.
The latest bad weather warnings come as a government minister warned there was no "blank cheque" to pay for repairing the damage of weeks of storm and floods that have affected parts of the country.
The Met Office has also forecast 70mm (2.75 inches) of rain by Friday in the already sodden West Country - more than the region would normally get in the whole of February - with south Wales, western Scotland, Northern Ireland and other parts of southern England also expected to bear the brunt of the deluge.
Prime Minister David Cameron, who chaired a meeting of the Government's Cobra emergencies committee in 10 Downing Street on Wednesday morning, promised yesterday that "money is no object" in offering relief to those affected by the floods.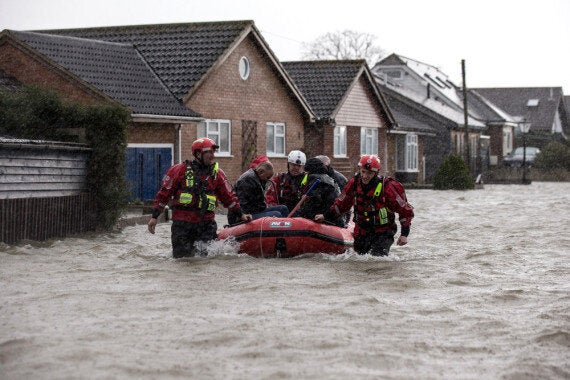 Fire and Rescue crew help evacuate residents from flood-affected homes near the river Thames.
But Transport Secretary Patrick McLoughlin indicated that there would be "careful consideration" before money is spent on the larger rebuilding exercise of restoring damaged infrastructure after water levels recede.
"I don't think it's a blank cheque," Mr McLoughlin told ITV1's Daybreak. "I think what the Prime Minister was making very clear is that we are going to use every resource of the Government and money is not the issue while we are in this relief job, in the first instance, of trying to bring relief to those communities that are affected.
"Then we have got to do the repairs of the structures and the railway infrastructure that's been damaged and then the other long-term issues, which will need some careful consideration."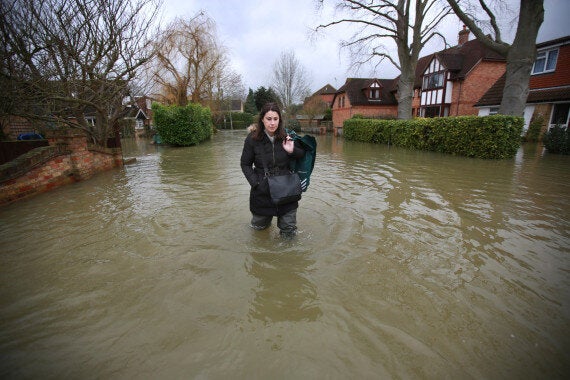 Resident Kellie Evans makes her to work through flood water in Wraysbury.
At the Cobra meeting, Environment Agency chief executive Paul Leinster told the Prime Minister that flooding could reach levels last seen in 1947 in some parts of the UK, though he said improvements in defences since that point meant that fewer homes were expected to be inundated.
"Oxford to Maidenhead we think could rise over the next five days and may lead to more flooding in that area," Mr Leinster told the committee.
"Below Maidenhead, the levels are holding at the current level but potentially over the weekend and going into the beginning of next week they could rise to higher than the current levels."
Major General Patrick Sanders, who is coordinating the military response, told the meeting that around 2,000 military personnel are involved in the clean-up operation and support in Somerset was increased overnight.
Cameron has cancelled a planned trip to the Middle East to take personal charge of the response to the flooding crisis.
Tomorrow he will chair the first meeting of a new Cabinet committee set up to oversee the recovery effort.
"Money is no object in this relief effort. Whatever money is needed for it will be spent," he said.
Sixteen severe flood warnings - indicating a danger to life - remained in place in Berkshire, Surrey and Somerset on Wednesday, with a further 122 flood warnings and 225 flood alerts. There were warnings that high winds could bring down trees and cause disruption to transport and power supplies.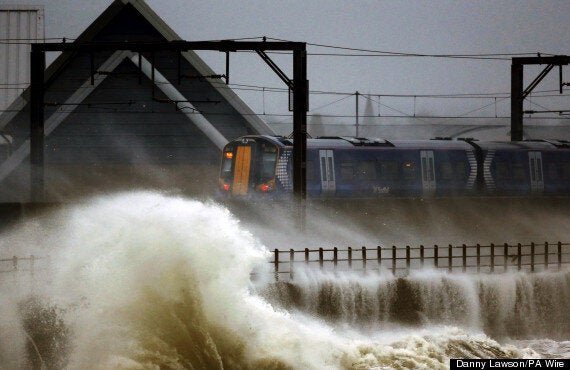 Homes and transport have been hit by the bad weather
Residents in Staines, Surrey, were evacuated from their flood-hit homes during the night, while around 1,000 homes in the Thameside village of Datchet were left without electricity during the night after power cuts which initially affected 1,700 properties.
About 100 properties remain flooded on the Somerset Levels, where extra pumps are being brought in from the Netherlands, and groundwater flooding is also expected in the coming days in Hampshire, Kent and parts of London. The Thames barrier closed again yesterday to protect communities to the west of the capital.
Since the beginning of December, a total of 5,800 premises have flooded - although the Environment Agency also stressed that 1.3 million have been protected by defences.