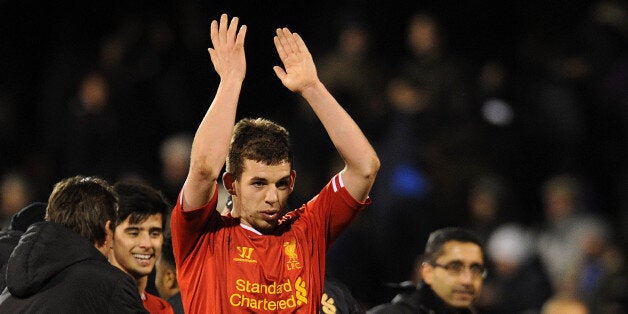 Jon Flanagan stops short of a "made up" but struggles to hide his delight. "A bit tired, but all good," he drowsily replies.
The adverse weather and travel chaos on Wednesday meant Liverpool arrived back from London at 4am on Thursday morning. Instead of flying back they had to brave the motorway by coach, along with thousands of other Kopites, so the interview has been pushed back two hours.
It hasn't dampened the mood of a club who have finally emerged from the wreckage of Tom Hicks and George Gillett's cowboy ownership and the damaging 18 months under Kenny Dalglish's management, though. Brendan Rodgers has propelled them back into the top four (satisfyingly, at Manchester United's expense), and for the first time in five years Liverpool are credibly regarded as "title contenders".
Steven Gerrard's 91st minute penalty has taken the Reds to within four points of the summit in a week they capitalised on Chelsea and Arsenal's draws, as well as Manchester City's postponement. Liverpool were top at Christmas but dropped to fifth four days later in this see-saw season.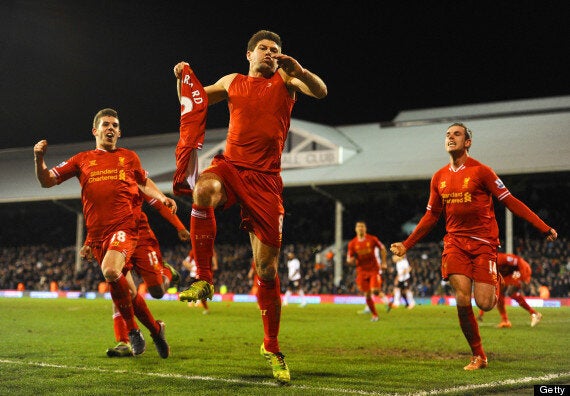 Flanagan (left) celebrates Steven Gerrard's late winner at Fulham on Wednesday
The manner of the win at Craven Cottage was similar to Yossi Benayoun's clincher at the same ground five years ago. The Putney End rocked to cries of "And now you're gonna believe us... We're gonna win the league." They didn't.
Encouragingly, though, Liverpool are exceeding expectations. A return to Champions League football was the overriding aim and they are favourites to accomplish that. Securing three points at basement club Fulham was sweeter than eviscerating the league leaders four days previously for Flanagan.
"Yeah, I think so," he agrees. "Arsenal was a great performance by the lads but we made a few defensive mistakes last night, and for us to come back the way we did was fantastic. So yeah, I'd say it topped the Arsenal performance."
Liverpool have not won the league in 21-year-old Flanagan's lifetime. He admits he thinks about lifting the championship "every day" but is careful to rein in expectations.
"All along we've said top four. All the lads have said that from day one, we want the top four spot. If we're in and around [first place] the last five games or so we'll look at it then."
One advantage Liverpool have is Chelsea and Manchester City have to travel to Anfield, where Liverpool have won 11 of their 13 games and scored 38 goals. They are just five goals shy of the 71 they netted in the entirety of last season and, Flanagan boasts, Liverpool possess the most potent attacking duo on the continent in Luis Suárez and Daniel Sturridge.
"We're not gonna make it easy for them when they come to Anfield," Flanagan warns, "as Arsenal saw the other day. So hopefully we can get decent results against them and then who knows.
"We're scoring goals. We've got the best strike partnership up front in Europe, I think. Every game we go out there and we know we're gonna create chances and we know we're gonna score goals with those two up top. So it means I can concentrate on my defending and keeping it tight at the back."
For over a year now Liverpool have been heading in the right direction. The January 2013 buys of Sturridge and Philippe Coutinho bolstered a now enviable attack, while Rodgers handled the Suárez situation astutely for a relatively inexperienced manager.
The improvement from Dalglish's Jurassic thinking has been dramatic. So what has Rodgers done differently?
"He's come in and he's got us playing football on the ground," Flanagan asserts. "Don't get me wrong, Kenny was a great manager, but Brendan's come in and given us all a lift and got us back to where we want to be - in that Champions League spot."
Dalglish was the man who gave Flanagan his debut as an 18-year-old three years ago. He came to prominence during one of the fieriest Liverpool-United clashes in the quarter-finals of the FA Youth Cup, when four players were sent off at Anfield as a Ravel Morrison double completed a 3-2 United comeback. "It wasn't the best of days," Flanagan reluctantly recalls.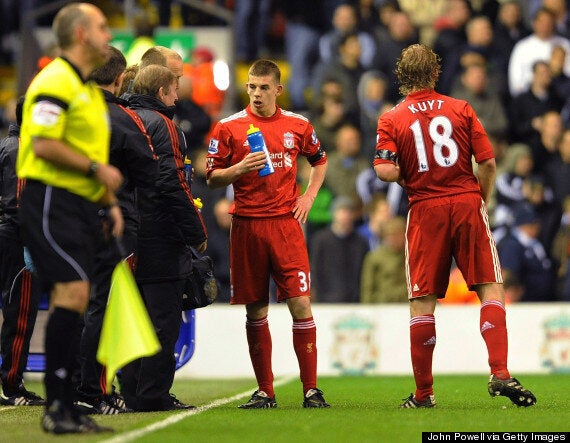 Flanagan made his debut as an 18-year-old nearly three years ago
He was "playing well for the ressies [reserves]" when he joined up with the first-team squad, where he "took it in my stride and stayed focussed". Flanagan's first two professional appearances were starts against Manchester City and Arsenal, as left-back Jack Robinson and Jay Spearing formed a tenacious Scouse triumvirate in a 3-1 win and 1-1 draw. Spearing, four years Flanagan's senior, joined Bolton last year and Robinson is on loan at Blackpool.
Flanagan's career stalled last season during an injury-afflicted campaign, when he made just two appearances. Was that a blessing in disguise?
"You could say so," he says. "I was obviously gutted with the injuries last year. I didn't think I'd get a chance to be honest to come back into the team, I thought I'd be at the back of the bunch. But a couple of kids have gone on loan, there have been a couple of injuries and I've had my chance and hopefully I can keep going now."
Did he consider a change of scenery?
"Yeah I had a couple of offers to go out on loan at the start of this year," he admits, "but I didn't think it was right for my progression and it's the best decision I've ever made, really. The manager's shown faith in me and I've come back into the side.
"It's been great for me that the manager's shown faith in me to throw me in in such big games at such important times," Flanagan says of Rodgers. "There have been a few injuries so all I'm doing is taking every game as it comes and will hopefully just keep on playing well."
His progress is all the more impressive considering the competition at right-back. Glen Johnson and Martin Kelly have also experienced fitness issues, but are two capped internationals who will struggle to dislodge Flanagan, who is utterly dumbstruck the former Brazil right-back Cafu has heard of him, let alone tweeted about him.
He admired the World Cup winner growing up, but what about that luminary down the road, Gary Neville?
"Erm... I didn't really like him, being a Liverpool fan," he laughs, "but there was no doubt he was a great player and he was one of the best right-backs of his time."
He could soon learn from the former United defender about "getting crosses in and getting forward more" next month. England host Denmark at Wembley in what could be Roy Hodgson's last chance to assess prospective members for his 23-man World Cup squad. With Johnson sidelined, England lack competition for Kyle Walker at right-back.
Liverpool fans, some of the most antipathetic when it comes to the national side, will be pleased at how Flanagan, who is eligible to represent the Republic of Ireland, is unaffected by talk of a promotion.
"I'm just concentrating on Liverpool at the minute," he deadpans. "We've been doing well the past few games so I'm just taking every game as it comes. If that call up comes I'll be delighted but I'm just concentrating on my Liverpool career at the minute."
He's Scouse, not English.