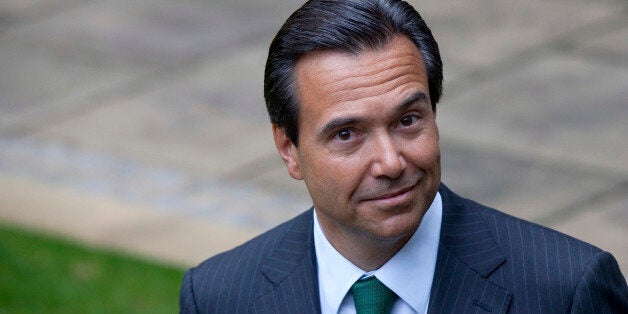 Lloyds Banking Group chief executive Antonio Horta-Osorio is in line for a potential shares bonus worth £1.7 million for 2013 and staff will share a £395 million payout.
The taxpayer-backed lender said Horta-Osorio's windfall is deferred for five years and is dependent on performance conditions, while the wider staff bonus pot is 8% higher than the £365 million paid out for 2012.
Details of the bonuses came as Lloyds confirmed it returned to the black in 2013 with bottom line profits of £415 million against losses of £606 million in 2012, and said underlying profits more than doubled to £6.2 billion.
This came despite a soaring bill for mis-selling compensation, which was revealed alongside headline profit figures in a shock update earlier this month.
Horta-Osorio said he will take his bonus for 2013, despite decisions by his counterparts at Barclays and Royal Bank of Scotland to waive their annual payouts.
But the bonus is dependent on the Government selling another 50% of its remaining 33% stake or the share price holding above 73.6p - the average price paid by the Government when the bank was rescued - consecutively for six months.
He defended the decision to increase the overall staff bonus pool in the face of calls for a cut following another £1.8 billion set aside for payment protection insurance (PPI) compensation and the group's record £28 million fine in December over incentive schemes rewarding staff with ''champagne bonuses'' that drove mis-selling.
Lloyds said the potential staff bonus pot had seen a "material" reduction to reflect mis-selling provisions and December's fine, while the group's remuneration committee is also due to discuss clawback of past payouts to individuals relating to the Financial Conduct Authority penalty at the end of last year.
Horta-Osorio added that the bonuses reflect the "excellent progress" made over the last year. The payout means the majority of staff - around 91,000 employees - will receive payouts averaging £4,500 each, although cash handouts are capped at £2,000 and bonuses are fully deferred for directors.
Horta-Osorio said the group was now a "normal bank" after returning to statutory profit for the first time in three years.
The turnaround comes in the face of its vast PPI mis-selling compensation bill, which is now nearly £10 billion after £3.1 billion was set aside for 2013 alone.
Lloyds also made a further provision of £130 million in the fourth quarter relating to the sale of interest rate hedging products to small and medium-sized businesses, bringing the total to £530 million.
It said it had returned to core lending growth across all its banking divisions, with net mortgage lending rising in the third quarter and picking up pace in the final three months of last year.
Overall gross new mortgage advances increased £10.7 billion to £36.9 billion in 2013. The group also hiked net lending to small businesses by 6% last year.
Lloyds gave no further detail on the timing of a further sale of government shares, having whetted investor appetite earlier this month when it said plans were in place for another share placing, which could see members of the public snap up stock later in the year.
It confirmed a prospectus was being worked on, but said the timing was "absolutely" up to the Government.
The multibillion-pound offering is likely to exceed the size of the stake available to retail investors who took part in the Royal Mail privatisation last autumn.
The Treasury still owns a 33% chunk of Lloyds following its rescue during the financial crisis, after it swallowed up troubled Halifax Bank of Scotland. A 6% stake has already been sold off to institutional investors, raising £3.2 billion last September.
Richard Hunter, head of equities at Hargreaves Lansdown Stockbrokers, said the results point to a "return to full private ownership becoming more imminent".
"This welcome - and overdue - removal of political influence should enable the board to focus more closely on delivering its strategic objectives without distraction," he added.
But the group's return to health has also come at the expense of jobs, with Lloyds last month revealing 1,080 staff cuts across its retail, risk, operations and commercial banking divisions, while 310 roles will move to other employers.
It said the cull was part of reductions previously announced. Almost 35,000 jobs have been lost at Lloyds since 2008, according to trade unions.
Horta-Osorio said there were no plans for further job cuts on top of the cost-saving action announced under its three-year strategy set out in June 2011, when it also committed to retaining its branch network on a net basis.
It is working on its next three-year plan, from 2015 to 2017, which could see staff and customers face further uncertainty over jobs and branches.
Popular in the Community