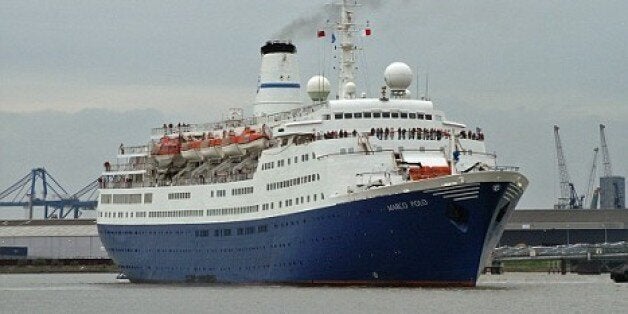 A cruise ship passenger has died and another has been airlifted to shore after their 22,000-tonne vessel was hit by a freak wave in the English Channel today.
The wave battered the British cruise ship Marco Polo, operated by Cruise & Maritime Voyages (CMV) as it headed for its home port of Tilbury in Essex at the end of a 42-night voyage.
Water crashed through a window injuring a number of the 735 passengers, who were mainly British. An 85-year-old male passenger and a woman passenger in her 70s were airlifted off the ship. The male passenger later died.
A number of other passengers received minor injuries and were treated on board. The vessel, which has been to the Amazon in South America and to the West Indies, is due to dock at Tilbury in the early hours of Sunday.
The company said: "CMV regrets to advise that earlier today their cruise ship m/s Marco Polo, en-route to her home port of Tilbury from the Azores, was hit by a freak wave during adverse sea conditions in the south western approaches of the English Channel.
"One elderly passenger has died and a further passenger has been airlifted for further shore-side medical assistance. The vessel sailed from Tilbury on January 5 and is carrying 735 mainly British passengers and 349 crew.
"Our thoughts are very much with these passengers and their families during this difficult time."