"When we write, we sit in a room together, with a partners' desk. We used to be in a bungalow, but we've upgraded a little bit. George doesn't even use a computer, he writes longhand. I use a computer, but it's all pretty old-fashioned."
Grant Heslov, George Clooney friend of 31 years, creative partner for eight and fellow powerhouse at Smokehouse Pictures is giving fascinating insight into how dreams, and Oscars, are made.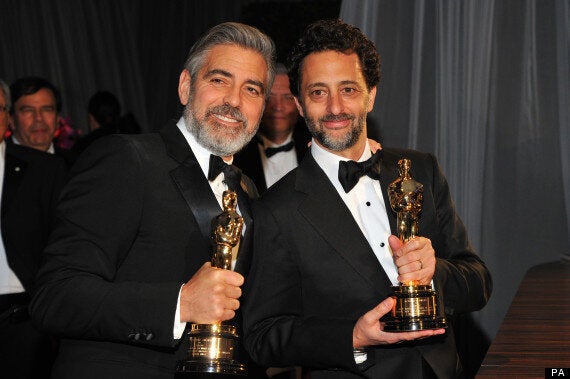 George Clooney and Grant Heslov celebrate their Oscar win for 'Argo' last year
"We work very closely together, hand in hand," he adds. "We make decisions about who does what, based on George's acting schedule, and the material that comes through the door.
"And we have a rule that we both have to want to make the picture."
This time around, for 'The Monuments Men', it was Grant's omission to pack his book for a flight that prompted action stations. Instead, in the bookstore at LA airport, he picked up Robert M. Edsel's true story of the same name, and, when the time came, prompted George to read it too…
"We had just made 'Ides of March', so we were looking for something less cynical. Ides was very dark."
Sure enough, 'The Monuments Men' may be set in the travails of World War II, but with Bill Murray, John Goodman on board alongside Matt Damon, Cate Blanchett, Jean Dujardin, Hugh Bonneville and George Clooney himself, it manages to convey its message movingly but lightly – that a few brave people, curators, architects and artists among them, were prepared to put themselves on the front line to prevent great works of art falling to Hitler's cause.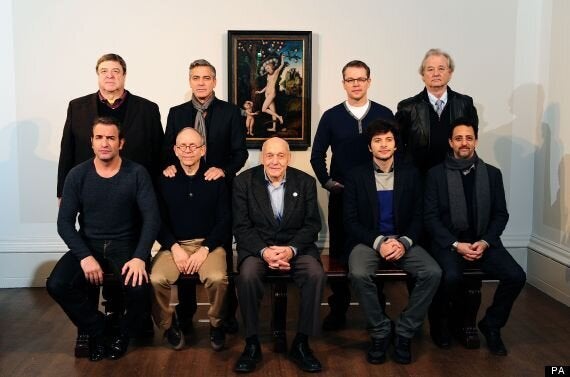 Grant Heslov joins George Clooney and the cast of 'The Monuments Men' in London this week
Of course this begs the question, is art worth the price of a life? Something Grant Heslov has had time to ponder…
"I think that if you 're talking about one individual piece of art, I would say probably not, but it's really about people's culture, and their history, and the idea that someone, Hitler in this case, had the desire to wipe out a whole race and what they value. Then, I do think it's worth it.
"Sitting in this hotel room, it's easy to say, in abstract, art is worth a life, but these guys who were really out there, they weren't soldiers, they were curators, artists and architects, they didn't belong there. I think it was worth it."
Grant himself is in the film – "a tiny part, purely because the Brit who was meant to be in it couldn't make it over to Berlin, so I stepped in" – but his heart clearly lies behind the camera, a move rewarded by last year's Oscar for Best Film, along with George, for their efforts on 'Argo'.
For Grant, this still doesn't seem real.
"We won the Academy Award and the next morning we were on the flight to Berlin to start work on 'Monuments Men', and we didn't get home until mid-July, so it actually hasn't sunk in yet. Maybe now with Awards Season, once somebody else has it, it will."
Both 'Argo' and 'The Monuments Men' are grown-up films, defying Hollywood's current despair that only films with aliens and superheroes get to be made. Grant agrees that the economics of making their "mid-level" films are difficult, but it's a range they're sticking with.
"We're trying to make adult films, doesn't necessarily mean they're not for younger people, but hopefully about something. Our litmus test is, is this something we'd want to go see ourselves?"
Going to the cinema with George Clooney would probably involve being more looked at than anybody on the screen, and Grant agrees he's in the bemusing position of being inside the bubble, working alongside household names, but enjoying a freedom they are ever more denied.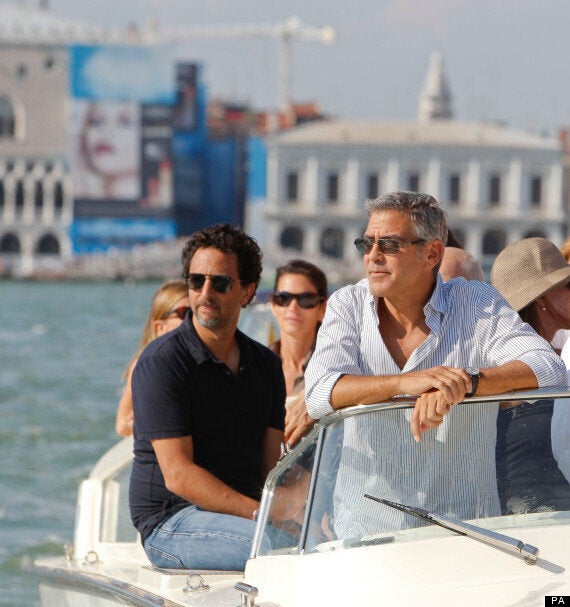 "I get to live a normal life," says Grant Heslov, seen above with George Clooney on a boat in Venice, 2011
"People like George and Bill will never complain about it," he reflects, "but I've spent a lot of time with these guys, and it wears. There is a big cost.
"They can't go out. I go do what I want, but those guys, it's work and it takes planning. If I want to go out, I just go out."
What if he hadn't set up shop with George Clooney?
"Maybe I'd still be an actor," Grant laughs. "No, I'd be doing this… I don't know if I would be successful, but I would be doing this."
'The Monuments Men' is out now in UK cinemas. Watch the trailer below...