Go Ape, Britain's biggest zip wire and treetop swinging experts, set up a 525ft zip line in London's Excel Centre, making it the world's longest indoor zip wire.
Founded in 2001 by former army captain Tristram Mayhew and his wife Rebecca, Go Ape opened its first outdoor course in 2002 and has grown its range to now having 30 sites across Britain.
Speaking to HuffPostUK, Tristram says the business now employs 700 people in the UK and 100 in America operating, with six sites in operation over the Atlantic.
Go Ape is now 40 times bigger than it was since it began, with Mayhew saying: "We want to aim high, we want to be the best adventure company on the planet."
The business also aims to swing across to Russia, with Mayhew targeting Moscow as part of a plan to get Russians swinging through the trees.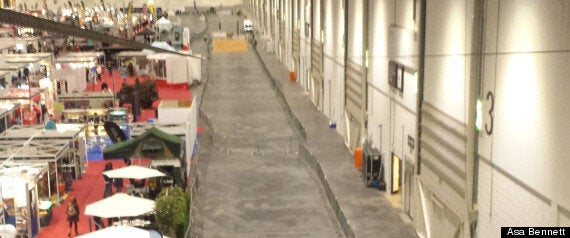 For the sake of journalistic thoroughness, HuffPostUK decided to test Go Ape's 525ft zip wire alongside Tristram at the Outdoor Show.
The result? A zippy wind-in-your-face thrill as over 500 feet went by in seconds - while nicely avoiding a Boris Johnson-esque stall.