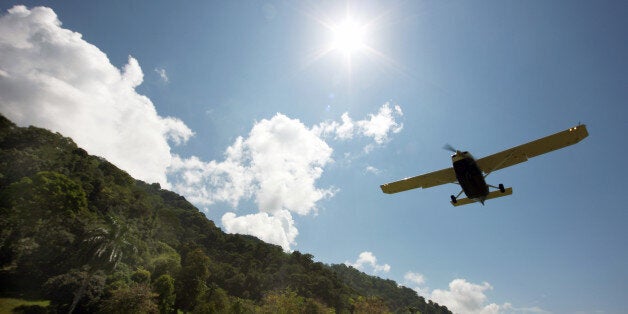 A university student has taken his neknomination to the next level after filming it in the co-pilot seat of an airplane.
Thorfinn Stout, a business and sports studies student at the University of Stirling, was filmed sinking a pint of what appears to be lager in the front seat of the light aircraft. He kept one hand on the controls while holding his drink with the other.
It is understood that 21 year-old Stout, from Kirkall, Orkney, was a passenger and not co-piloting the plane while drinking. The identity of Stout's camera man has yet to be confirmed.
It is against Civil Aviation Authority rules for passengers to be drunk on an aircraft. However, there is no evidence to suggest that Thorfinn was intoxicated while in the cockpit.
A CAA leaflet on passenger safety in light aircraft states that pilots should "not take passengers who are under the influence of alcohol (or anything worse)".
It adds: "They could hazard the flight. Drunkenness in an aircraft is an offence under ANO 2009 Article 139."
In the video, seen by the Daily Record , Stout announces to his viewers that he's "ready for a pint".
Facebook friend Andy Croy commented, saying "Haha, quality mate. Reports of a small aircraft swerving over Kirkwall can be confirmed then".
Thorfinn, who plays for his university's football club, has been backed by Stirling students and Stirling University Football Club. A number of the Stirling Student's peers have supported the video on twitter.
The Football Club also posted a status on its Facebook page, saying: "Would just like to announce that everyone at SUFC is fully behind Thorfinn Stout regarding recent events. #planegate #readyforabeer"
A spokesman from the Civil Aviation Authority told the Huffington Post UK: "It is an offence for a passenger to be drunk on board an aircraft, to endanger the safety of the aircraft, or to disobey the command of the pilot in charge of an aircraft.
"A passenger found guilty of any of these offenses can potentially face a custodial sentence".
Stout's mother, Anne, told Deadline News that her son was not the co-pilot, but did not wish to comment any further.
Stout was unavailable for comment on the video.