Two people have died and Britain's coastal communities have been battered by high winds and huge waves as widespread flooding continues to bring misery to thousands.
A cruise ship passenger died after 80mph winds whipped up freak waves in the English Channel and a woman was killed when part of a building collapsed on to a car in central London.
More than 30 people had to be rescued by emergency services and the army from a seafront restaurant in Milford on Sea, Hampshire after wind-blown shingle shattered windows and the sea flooded it.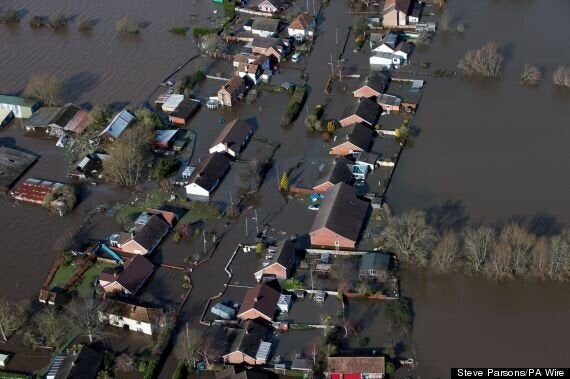 Floods have hit towns around the country
There is major disruption across Britain's road and rail networks, with hundreds of trees uprooted across roads and rail tracks. Many train services have been cancelled.
The Environment Agency and emergency services continue to battle with the latest instalment of the worst winter storms in living memory.
Some 22 severe flood warnings are in place, issued for coastal communities from Cornwall to Hampshire, Gloucester and the Thames Valley, where rivers remain at their highest levels for decades.
Communities across the country have been using sandbags and makeshift barriers to protect their homes and businesses from the floodwaters. Yesterday the Duke of Cambridge and his brother Prince Harry joined in the emergency relief as they helped fill sandbags in Datchet, Berkshire.
Forecasters are warning of more heavy rainfall and gale-force winds today. Southern England will see between 10mm-20mm (0.4in - 0.8in), while the South West and south Wales could see up to 40mm (1.6in), the Met Office said.
Winds have wrought fresh havoc, with gusts of up to 80mph hitting exposed parts of the south coast.
Lymington coastguard, fire services and the army rescued 32 people from the Marine Restaurant in Milford on Sea, Hampshire, at 10pm yesterday, evacuating them in an army vehicle. Hampshire Police said there were no serious injuries.
A man and a woman were freed from the car but the woman died at the scene, London Ambulance Service said. A man in his 20s was taken to hospital with leg injuries, where he is in a stable condition.
An 85-year-old man died yesterday after the 22,000-tonne Marco Polo cruise ship was hit by a freak wave in the English Channel.
Water crashed through a window, injuring a number of people. The man was airlifted off the vessel along with a woman in her 70s, but later died. A number of other passengers received minor injuries and were treated on board.
Waves of up to 10m reportedly threatened to cut off Portland in Dorset, while people in Portsmouth have been receiving hoax calls calling for them to evacuate their homes amid flooding fears, Hampshire police said.
Trees are reported to have fallen on trains near Mottingham in south-east London, and near Winterslow in Wiltshire, but no one was hurt in either episode.
All train services west of Plymouth have been cancelled, while a landslide near Redhill has hit the line south of the capital.
South West Trains has cancelled nearly all of its services until it is safe for them to run, while First Great Western is advising passengers not to travel, and has speed restrictions of 50mph across most of its network.
UK Power Networks said 11,000 customers remain without electricity in the South East and 9,000 in the East of England.
A spokesman said engineers have restored power to 165,000 homes and businesses since high winds started last night.