Julie Sillitoe, 49, was pronounced dead at the scene, opposite Holborn Underground station.
Her passengers, a 25-year-old man and a 24-year-old woman, are currently being treated in hospital.
A Scotland Yard spokesman said: "Julie Sillitoe, 49, of north London, died following the incident last night in Holborn. She was married, with three grown-up sons and worked as a minicab driver."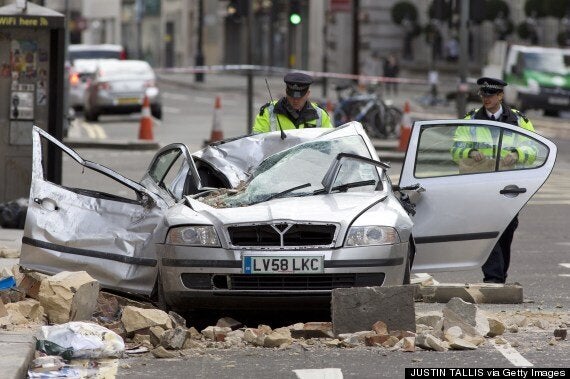 Police officers walk near to the wreck of a car after masonry from a building collapsed onto the car in high winds killing a woman in central London
Large chunks of masonry fell on to her silver Skoda Octavia at about 11.05pm last night.
A Scotland Yard spokesman said: "A front portion of the building had collapsed on to a Skoda Octavia car. The car was stationary at the time of the building collapse."
The male passenger, who was trapped in the car, suffered leg injuries. The female passenger managed to free herself from the rear of the vehicle. Their injuries are not life-threatening, police said.
A fourth person, believed to be a male passer-by, was also injured and taken to hospital, London Ambulance Service (LAS) said.
A further 10 people were evacuated from nearby buildings as a precaution.
LAS said it sent ambulance crews, rapid responders and a doctor and paramedic from London's air ambulance to the scene, the first of whom arrived within two minutes.
High Holborn remains closed while investigators examine the scene, a police spokesman said.
Rubble lay strewn around the damaged car, which was surrounded by police tape outside a branch of McDonald's.
The twisted driver's door and the back right-hand side passenger door had been wrenched open but two-thirds of the vehicle, sloping down to the driver's seat and the front windscreen, was caved in.
A Scotland Yard spokesman said: "We will remain at the scene until the building and the safety of the public has been secured."
There is no scaffolding on the buildings along the street, which acts as a thoroughfare through London's West End, but the York stone on the ground is the same as that on one of the six-storey buildings next to McDonald's.
Two pieces of coping can be seen on either end of that building's roofline, which has a clean gap in the middle.
Motorists should avoid the area as "it is likely to be closed for some time", the police warned.