Suárez was patently stonewalled by Gunners' goalscorer Alex Oxlade-Chamberlain, with the Reds 2-1 down, three minutes after he was tripped by Lukas Podolski inside the 18-yard box.
Steven Gerrard converted from 12 yards to halve the deficit, but Liverpool were understandably aggrieved their captain was not granted a second opportunity.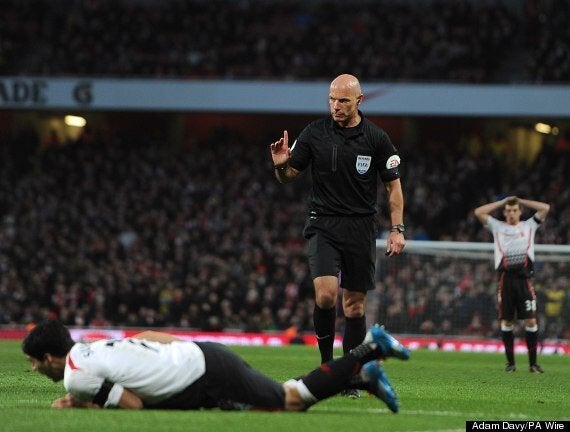 Liverpool were stunned Webb didn't award Suárez a second penalty
Webb's status as a Liverpool scapegoat led to former forward Ryan Babel posting a picture of him in a Manchester United shirt after he sent Gerrard off in a Cup loss at Old Trafford three years ago, and Rodgers admitted his side felt hard done by again.
"Absolutely," he responded when asked if he thought Liverpool deserved a second spot-kick. "I think with the first one, Luis gets clipped, it's a clear penalty, and I thought the second one was even clearer. Howard's in a great position, I'm not sure whether it was because it was so quickly after the first one, but young Alex [Oxlade-Chamberlain], he can go nowhere, Luis has had a touch, gets round him, and it looks a blatant penalty. So we're bitterly disappointed to have not got that because it then keeps our momentum going for the final stages of the game, when I thought we were on top."
"For me, it's gone," Rodgers stressed. "You can't change it, you can't affect it. I'll speak to an assessor or someone. It'd be nice to know why it wasn't given because it was the defining moment in the game.
"I don't know, you would have to ask Howard," he added in reference to whether Webb had been influenced by Suárez's reputation as a diver. "We're a team that is really aggressive in our attack and we provoke a lot of challenges because of the aggression in our offensive game, especially Luis. He's always in and around the box, asking questions of defenders, and actually quite a lot of the time he doesn't get what he deserves and, as you say, the one at Chelsea was a clear penalty.
"He's got a penalty [today] but should have deservingly had two penalties today. And if it's a penalty, he should have it, irrespective of what his reputation is.
"He's a guy that's been clean, he's thrown everything into his game and I thought that was quite an easy decision."