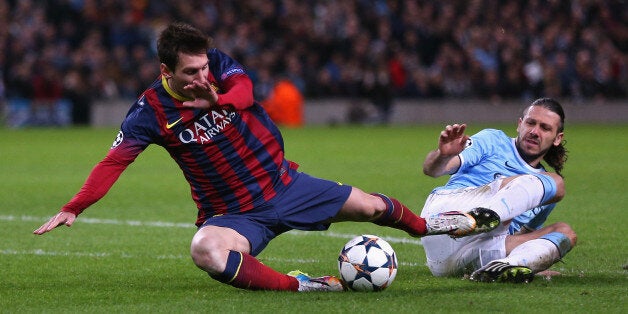 Martín Demichelis gifted Barcelona the advantage in their round-of-16 Champions League tie at Manchester City, as a Lionel Messi penalty and late Dani Alves goal sealed victory for the Catalans.
Here are five talking points...
Manuel Pellegrini excelled with both Villarreal and Málaga in the Champions League knockout stages with a reticent approach at home. His teams had only scored six goals in seven knockout games on their own turf and so it was no surprise City failed to register on Tuesday night.
They have greater resources than the two aforementioned Spanish sides and the initial eerie silence for such a momentous match signalled the home fans' frustration. City's set-up was somewhat similar to United's meticulous tactics against Barça nearly six years ago. Frank Rijkaard's side were in disarray but, nevertheless, United granted them enormous respect and eventually scraped through. Tata Martino's side are a more daunting outfit than back then, even though the Masia triumvirate of Xavi, Andrés Iniesta and Lionel Messi started at Old Trafford, but, given City's formidable home record, the inclusion of two full-backs was borderline cowardly. Captain Vincent Kompany even correctly opined Barcelona were "there for the taking".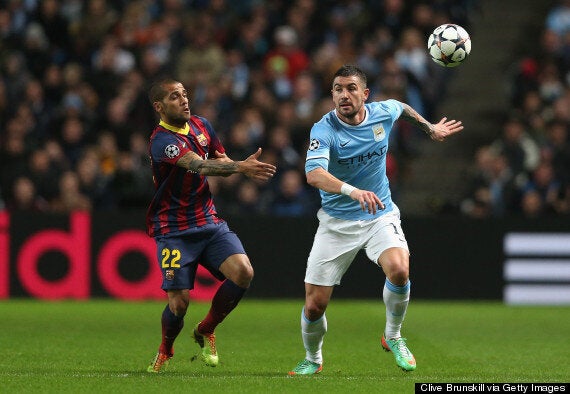 Kolarov's inclusion in an attacking role backfired
It was inevitable, though. Chelsea prevailed, somehow, against Barça two seasons ago, José Mourinho's Inter did, too. When City overcame their inferiority complex, they caused Barça, never convincing in defence, problems. They needed luck though, and it wasn't forthcoming.
Clive Tyldesley called it "mesmeric" but others find it monotonous. It's Barcelona's passing he was referring to, or, as Sir Alex Ferguson once remarked, the passing carousel. They were so harmless in the first 45 Tom Cleverley wouldn't have looked out of place in blue and deep red, and it was only after Martín Demichelis was sent off that they displayed some thrust, albeit briefly.
DEMICHELIS HAS TO BE REPLACED
The above heading could have been used following Demichelis's debut at Stamford Bridge in October. Old, slow and clumsy, however much Pellegrini, who brought Demichelis to Málaga, trusts him, the Argentine is not a superior alternative to Joleon Lescott, let alone the injured Matija Nastasić.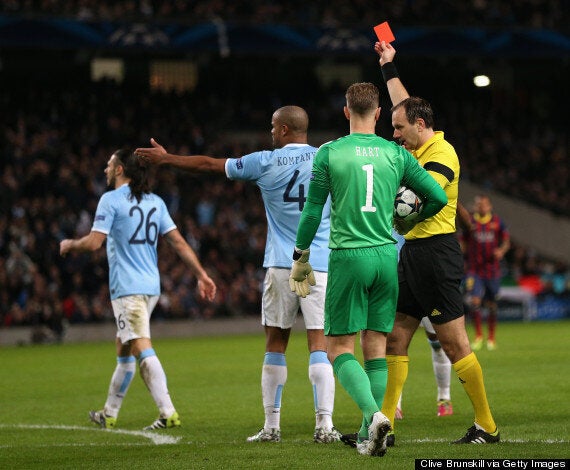 Demichelis is dismissed for his foul on Messi
Unfairly demonised following the defeat to Chelsea a fortnight ago, it was utterly daft of such a seasoned defensive player to recklessly slide for a ball he could not possibly win when he fouled Messi.
However imbecilic it was of Demichelis to execute a quasi-suicidal tackle as the last man, City ought to have had a free-kick seconds before, when Sergio Busquets upended Jesús Navas, and the subsequent foul on Messi was committed outside of the area. Difficult though that was to deduce, referee Jonas Eriksson did not consult his assistant, and gave a penalty.
Although conspiracy theories are usually Liverpool fans' forte, the sheer amount of good fortune Barcelona have enjoyed since Pep Guardiola became their coach is as enviable as it is dubious. The linesman, at least, evened it up when he wrongly disallowed Gerard Piqué's 81st minute tap-in.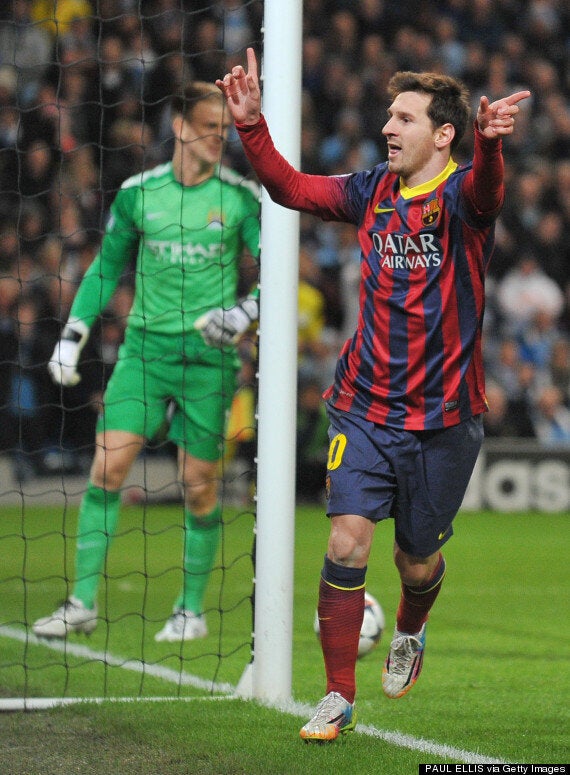 Messi celebrates his penalty as a frustrated Joe Hart looks on
POST-PEP BARÇA STRUGGLE TO CONVINCE AGAIN
While this was a knockout tie, the difference between Barcelona's patience and Bayern Munich's ruthlessness at the Etihad Stadium in October suggests the chasm between two of the favourites has possibly widened since their semi-final last year.
Prior to that evisceration 10 months ago, Barça were fortunate to edge past an average AC Milan and a superior Paris Saint-Germain in the previous rounds. Chelsea's remarkable triumph at Camp Nou in 2012 was an early warning, and even though they emerged victorious at Eastlands there was little to suggest their resurgence on the continent has truly re-started. The faces are familiar but Barcelona's aura has diminished, and the scoreline flattered them.
Related