Arsène Wenger was direct with his intro. "This evening's game is the ultimate way to measure our improvement," he wrote in his programme notes. Exactly one year on from their 3-1 defeat to Bayern Munich in north London, Arsenal's improvement was patent but impaired by football's cruellest rule.
For the second successive night, an English club succumbed to the severity of denying a goalscoring opportunity. Wojciech Szczęsny was sent off for upending Arjen Robben in the 37th minute, and while he was not as immediately punished as Martín Demichelis was, Arsenal lost to a second German side this season, and will require a performance of unprecedented magnitude if they are to reach the last eight for the first time since 2010.
The terrific Toni Kroos showcased just why he is angling for a more lucrative contract with a masterclass that inspired the latest Bayern stroll, with the aid of some vigilant Pep Guardiola's alterations.
Bayern have lost twice this season - in the curtain-raising German Super Cup friendly and their near-dead rubber final Champions League group game with Manchester City. That aura that is so lacking in the Barcelona post-Pep Guardiola has been inherited by the current European champions and "best team in the world".
Their starting XI was utterly daunting. Guardiola, the expert at playing square pegs in round holes, resisted that strategy. Arsenal should be complimented by it, but were probably more concerned. Bayern's flimsy centre-half pairing of Dante and Jerome Boateng were shielded by Javi Martínez, Kroos and Thiago Alcântara, with the best goalkeeper in the world behind them and the best full-backs beside them. The best of the best of the best, Bayern ought to have been clad in black.
On nights like this, Arsenal fans might retrospectively appreciate the value of finishing fourth. Usually a soulless bowl, the Emirates Stadium was more flamboyant than fickle, as tens of thousands produced a resplendent and awe-inspiring mural which galvanised their side as the spine-tingling Champions League anthem was played.
Ironically, it was Szczęsny's palms which were tested first, when Kroos languorously unleashed a venomous shot with his left foot. Lord knows what the right-footed midfielder's stronger version must be like when he catches it, and it was the only respite Arsenal afforded their visitors during a corybantic first 10 minutes.
Yaya Sanogo and Santi Cazorla both tested Manuel Neuer, before Mesut Özil danced his way into the Bayern area to draw the foul from his international teammate Boateng. Penalty. For such a critical match, Özil approached his spot-kick casually. The stutter was ominous, and Neuer parried his effort. The raucous Red Army were subdued after eight minutes.
"I prefer that people run properly at the ball," Wenger said after the match.
Belatedly, Bayern came to and rectified the sterile domination stakes. Mario Götze, deputising for Franck Ribéry on the wing again, was a permanent nuisance as he worked in tandem with the evergreen Lahm. Their mood lifted when Kieran Gibbs was forced off through injury and replaced by the often culpable Nacho Monreal. Soon, Robben was attracted to the right wing in what was in danger of becoming a grossly unfair mismatch.
Guardiola was still animated, though, and more than once had to stop himself from straying past the technical area's limits. Bayern's invincibility has barely been tested and he was acutely aware of Arsenal's penchant to impose themselves on his teams. The nervy Dante was treated to a couple of stern ear-bashings.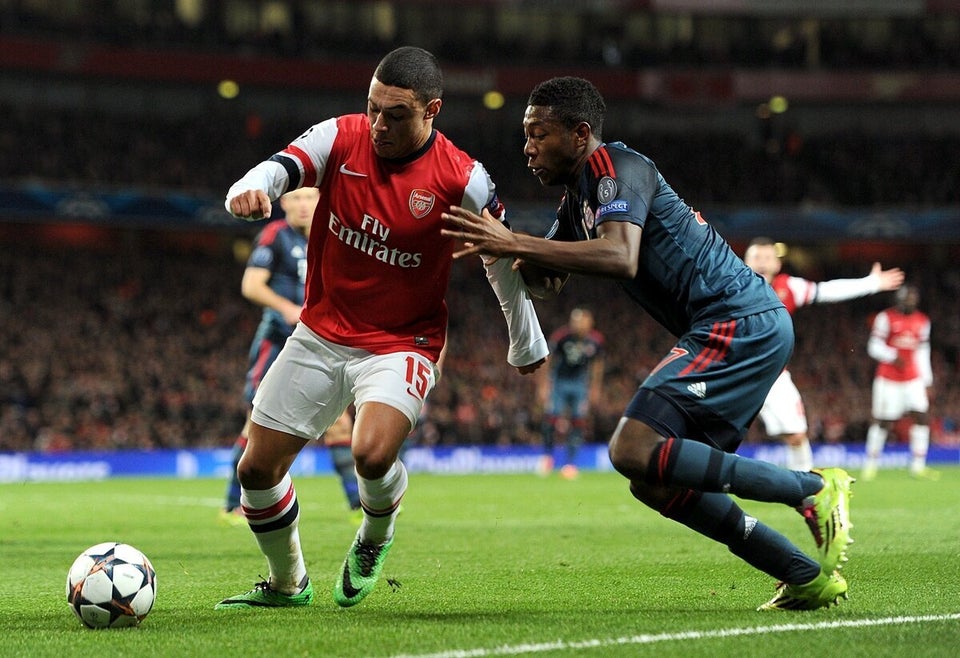 Arsenal v Bayern
Steadily, Bayern got closer to a breakthrough. Per Mertesacker blocked a goal-bound Robben hit and Laurent Koscielny recovered to thwart Mario Mandžukić, as the pair's partnership, their annihilation at Anfield aside, continued to blossom. Then Robben evaded their clutches.
Kroos lobbed a masterful ball over the Gunners' back four for the Dutchman to run onto, which attracted the onrushing Szczęsny, who took him out and was red-carded thanks to arguably football's most maligned rule. The Pole was not subtle in expressing what he thought of someone, be it Robben or referee Nicola Rizzoli. They were a "w****r".
Łukasz Fabiański, excellent in the FA Cup against Liverpool at the weekend, emerged as the last goalkeeper not to have conceded against Bayern. The hex continued, as David Alaba sent him the wrong way - and the ball rolled the wrong side of the post. Mathieu Flamini roared encouragement to his teammates, Wenger remonstrated with the fourth official and Arsenal's supporters were reenergised. Robben was booed for the remainder of the match.
Wenger said on Tuesday "0-0 is a good chance to qualify as the away goal is massive" and that scoreline's appeal would have risen during the pause. He also cautiously added Arsenal had "to be a bit more intelligent this year", having conceded four goals in their round-of-16 first leg against AC Milan two years ago and, more pertinently, three against Bayern last year.
Guardiola's unhappiness was expressed by the half-time substitution of the bumbling Boateng, perhaps fortunate to have stayed on the pitch for stonewalling Özil, for Rafinha. Martínez reverted to centre-back and Lahm was pushed into midfield. Back to the deluxe square pegs.
Bayern had the tent pegs out to set up camp in the Arsenal half, yet Özil should have punished them in the opening stages of the second 45, yet his touch was terrible and this time he would be punished.
Kroos exhibited how potent his stronger foot is when he coolly fired a brilliant 54th-minute curler into the top right-hand corner from Lahm's layoff. How fitting the German who broke the deadlock a year ago broke the Fabiański curse.
Bayern president Uli Hoeneß claimed earlier this week their most testing match has been in training, and the game was in danger of descending into a training ground kick-about. Fabiański saved superbly from a Robben volley and Guardiola then introduced one of Europe's most prolific big-game assets on Thomas Müller for Mandžukić. The Croatian struggled to execute Guardiola's instructions, and it was symptomatic of their uneasy relationship that the Catalan almost forgot to acknowledge him when he departed the pitch.
The exhaustion was beginning to take its toll. Flamini rollocked Özil for not tracking back and was physically rebuked. The autumn darling of Gooners, Özil's winter dip is in danger of plummeting into a slump. Inevitably, Müller, who also scored in north London last year, got his goal from another Lahm assist to double the advantage. The crafty Kroos nearly made it three when his shot hit the foot of the post in added time.
If ever Wenger needed a reminder of Arsenal's development, it was the arrival of Bayern's veteran striker Claudio Pizarro, who embarrassed them at this stage of the competition nine years ago. How deflating for Wenger that, like then, his team are unlikely to progress again.